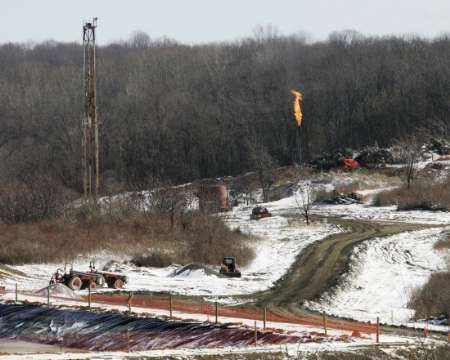 China has granted shale gas exploration rights to 16 companies in a second round of auctions, as the country tries to find out more energy reserves to meet its rising needs.
China's Ministry of Land and Resources said that the companies will invest 12.8bn yuan ($2bn, £1.3bn) to search and develop 19 shale gas areas allotted to them.
The companies comprise of 14 state-owned firms and two private companies, and are part of a larger group of 57 companies that were given rights to explore shale gas blocks in October.
The first round of auctions for exploratory rights for four shale gas blocks was held in June 2011. The ministry has allotted 26 blocks for exploration so far.
The ministry will supervise the prospection and punish firms that fail to carry out work as promised, state-owned Xinhua news agency reported, citing an MLR official in charge of prospection. It will also monitor the impact of exploration on the geological environment.
The country has around 25 trillion cubic metres of shale gas reserves, according to the ministry's estimates. That makes it the world's largest in terms of shale gas reserves.
Shale gas refers to natural gas that is trapped within fine-grained sedimentary rocks. The gas, which is more environment-friendly, is unleashed using the combination of horizontal drilling and hydraulic fracturing.
The move is in line with China's increasing demand for energy in line with its recent economic expansion. China is the world's No. 1 energy consumer at present, but depends heavily on imports for its energy needs.
By finding new energy sources, the country hopes to become more independent for its energy needs and avoid pricing problems.
Analysts expect China to become one of the largest shale gas producers in the world by 2030, while the country targets to raise shale gas production capacity to 6.5 billion cubic metres by 2015, representing about 6 percent of its total gas production at present.