Shale Oil: Vast Reserves Discovered Under Tory South England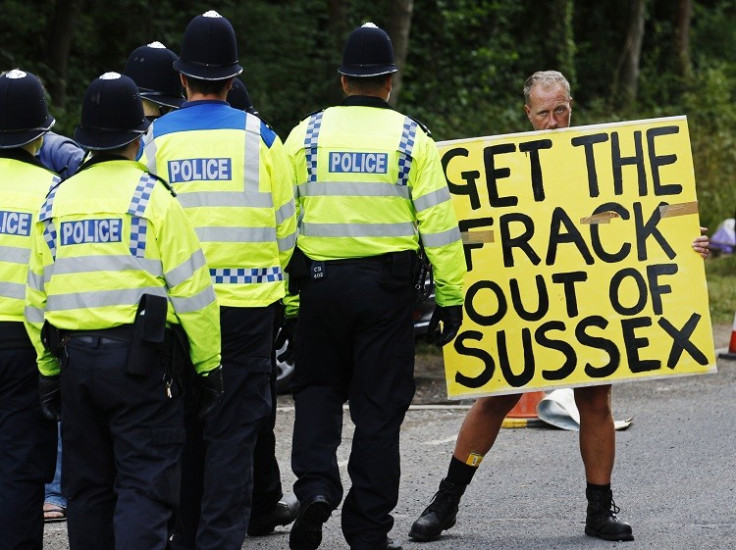 There are huge shale oil reserves under the south of England across some of the most staunchly Conservative parts of the country.
Imminent results of a study by the British Geological Survey (BGS) are expected to reveal vast reserves of the resource across the Weald Basin.
Among the counties sitting on top of the shale oil are Surrey, Sussex, Kent and Hampshire. But it is not clear exactly how much can be extracted from the ground.
And energy companies looking to exploit the resource are likely to face strong opposition from local planning authorities, residents and environmental campaigners in similar scenes to drilling for shale gas at Balcombe, Sussex, by the firm Cuadrilla.
Shale gas vs shale oil
Shale gas is a natural gas trapped inside shale rock. It is released by drilling into the rock, blasting liquid down it to fracture the rock, and then tapping off the gas that is released at the surface.
Shale oil (not to be confused with oil shale, which is different) is oil produced from shale rock by one of several different processes, such as heating to a high temperature in an environment without oxygen. This converts the chemical compound kerogen inside the shale rock into oil.
In a separate 2013 study, the BGS found 1.3tn cubic feet of shale gas reserves lying under Yorkshire and Lancashire.
Just 10% of which could fuel the UK's gas supply for four decades – assuming it can be extracted.
To encourage exploration the government announced a funding package for communities where exploration and extraction takes place, in order to win public support.
Every affected community will get £100,000 and 1% of revenues from the unconventional gas that is successfully extracted. Firms must also sign up to a community engagement charter to ensure locals are continuously consulted about any work planned.
But there are reports that this will be bolstered to increase the incentive and also offset plans to relax trespass law so energy firms can drill for shale underneath land without needing the owner's permission.
To encourage shale gas exploration, the government has also put in place a number of tax breaks for the industry.
Critics say the hydraulic fracturing – fracking – process to extract shale gas is dangerous because there is a risk that the chemicals could leak out and contaminate the water supply.
The government insists that the risk of this is minimal because it operates a strict licensing and regulation regime.
It is keen to encourage shale gas production because it could lead to thousands of new jobs and bundles of tax receipts flowing into the Treasury.
Correction: This article originally said 10% of the the Weald shale oil reserves could supply enough gas for the UK for 40 years. This is actually true of the Bowland reserves, not the Weald.
© Copyright IBTimes 2023. All rights reserved.