French oil and gas major Total will partner British energy firm IGas Energy to prospect for shale gas in Lincolnshire in the East Midlands.
IGas has agreed to part with a 40% interest in two shale gas exploration licences in Lincolnshire.
Total will pay $1.6m (£955,680, €1.2m) in back costs and fund a development programme of up to $46.5m, with a $19.5m minimum investment.
Total is the first major energy company to back shale gas exploration in Britain.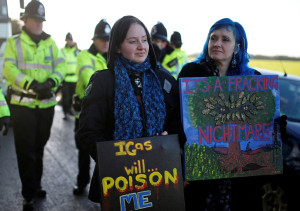 Environmentalists in the UK are opposed to the process, known as fracking, used to extract shale gas.
Fracking involves drilling holes deep into the ground which then uses high-pressure liquid to fracture shale rocks to release gas trapped inside. Environmentalists have criticised the effect the method would have on the surrounding areas and have claimed it could have dire effects over the public's health.
However, IGas chief executive Andrew Austin said the project would be a big boost for the local community.
"The rates on a site in full production will be around £3m a year, so that is a material amount going directly to the local community. You will start seeing differences in people's council tax bills, differences in the services people are able to receive locally as a consequence of shale gas being hosted in their area," said Austin.
"Aberdeen was completely transformed by the effects of the North Sea [oil] through the 1980s and 1990s. There is the opportunity for other parts of Britain to participate as being a centre of excellence for shale gas jobs. With every direct job you get indirect jobs as well and this has a knock on effect into the community."
"In terms of how much gas is there, one of the partners in the licence estimated there is up to 13 trillion cubic feet of gas in the area." Austin told Business Reporter.
"[The Big companies] are coming in at an earlier stage than in the US, where they let the smaller companies bear the upfront costs. They have come in at a much earlier stage which is very encouraging," said Michael Fallon, minister of state for Business and Energy.
Earlier, Chancellor George Osborne claimed a shale gas revolution in the UK could bring down energy bills for consumers.
He said the UK would benefit from a global boom in shale gas production because then the world gas price would fall.
However, Angela Knight, chief executive of industry lobbyist Energy UK, previously told IBTimes UK that it was unlikely household bills would be affected by shale gas production in the country.
In the US, shale gas production had pulled consumers' bills down because America is a closed energy market that imports just 6% of the total gas it consumes a year.
The UK is part of the European and world gas markets, so prices would still be impacted by what is happening elsewhere – even if shale gas is produced locally.