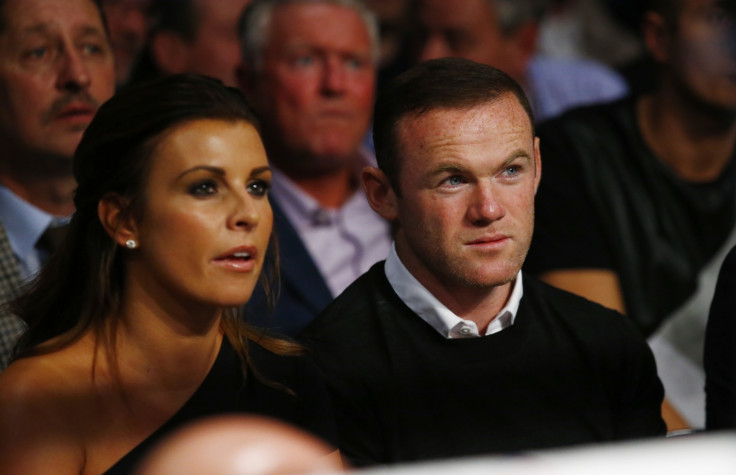 Wayne Rooney's pregnant wife Coleen may have decided to forgive the football ace in the wake of his drink-driving arrest − but that doesn't mean he is off the hook. According to Heat magazine, she has found a way to deal with her husband's wandering eye.
Rooney found himself in the doghouse after police pulled him over as he drove a Volkswagen Beetle belonging to office worker Laura Simpson, who claimed that they had enjoyed a "kiss and cuddle" after he complimented her body at Bubble Room cocktail bar in upmarket Alderley Edge.
This followed an episode in 2010 when Rooney again humiliated Coleen after it emerged that he enjoyed as a threesome with former prostitute Helen Wood and friend Jenny Thompson.
Heat magazine reports that the 31-year-old Everton striker has now been giving a strict list of rules to adhere to if he hopes to get their marriage back on track.
Coleen, who is currently five months pregnant with the couple's fourth child a is said to be "livid and embarrassed" about his latest antics.
"Deep down, Coleen doesn't want to divorce Wayne," the source said. "She loves him and thinks it's best for the boys that they stay together. And there's the unborn baby, too."
The pal added that although Coleen had prompted divorce speculation by stepping out without her ring as the drama unfolded, she is reluctant to break up her family.
"But, this doesn't mean she's forgiven him," the insider continued: "She's suggested some guidelines she thinks will help the marriage, and she wants Wayne to stick to them."
Meanwhile, the former England and Manchester United captain has been handed a two-year driving ban after pleading guilty to a charge of drink-driving. He was also ordered carry out 100 hours of to unpaid work as part of a 12-month community order.
Rooney, who was nearly three times over the legal limit, apologised for his "unforgivable lack of judgment" in a statement.
"I have already said sorry to my family, my manager and chairman and everyone at Everton FC. Now I want to apologise to all the fans and everyone else who has followed and supported me throughout my career," he said following the ruling. "Of course I accept the sentence of the court and hope that I can make some amends through my community service."