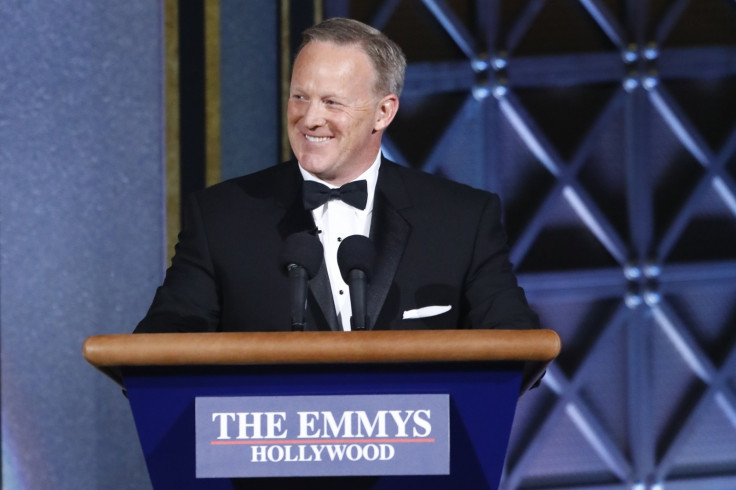 Former White House press secretary Sean Spicer's controversial appearance at the Emmys on Sunday night (17 September) wasn't to everyone's taste, a fact made clear by the online backlash, with many of those in attendance also irritated by the cameo.
Among them was Harry Potter star Jason Isaacs, who posted a lengthy, scathing takedown of Spicer on his Instagram alongside pictures of him with an Emmy and a disapproving selfie with the former White House figurehead in the background.
Spicer resigned as White House press secretary in July after a string of controversies, including him lying to reporters and claiming Adolf Hitler "didn't use chemical weapons" during World War 2.
He appeared on stage at the 69th Primetime Emmy Awards ceremony to make light of his comments made about the meagre crowd size at President Donald Trump's inauguration in January.
He said the audience was was "the largest audience ever to witness an inauguration" despite photographic evidence to the contrary.
"Hoping to forget politics for one night and bask in other people's glory at the Netflix Emmys party and who do I spot at the bar late at night but the poisonous purveyor of lies Sean Spicer," wrote Isaacs, who played Lucius Malfoy in the wizarding series.
"What were the Emmys thinking celebrating this modern day Goebbels, who was the thuggish face of Orwellian doublespeak just moments ago?
"Three surprising things about him: 1) He comes about up to my nipples 2) He doesn't think he should hide himself under a rock from shame for the rest of his life. 3) He's deeply unattractive, from the inside out. Has the aura of a giant festering abscess."
Many other celebrities weren't so scathing. James Corden in particular has suffered a backlash after being snapped kissing Spicer on the cheek behind the scenes.
On his late night talk show Corden might light of the situation, saying: "Anyone ever have that feeling when you get a little drunk and then wake up the next morning and think 'Oh God, who did I kiss last night?' It's a bit like that.
"To be fair, everyone was kissing ass last night at the Emmys. I just happened to kiss the biggest one there."
Famous critics of the Academy of Television Arts & Sciences' decision to invite Spicer also included Zach Braff, Kal Penn and Ron Perlman.
Braff tweeted: "I'm not ready to laugh 'with' Sean Spicer. I think he is an evil, opportunistic liar that hurt our country." Penn, meanwhile, said: "Sean Spicer can normalise himself in good fun, but he still passionately advocated against human rights, health care, & American values."
Pearlman said: "What kind of Arts Community goes for a cheap joke by allowing this white supremacy enabling muthaf**ka into it's midst! Ashamed...."