Great Britain's Shanaze Reade and Liam Phillips got to impressive starts in their search for gold in the BMX competition.
Reade qualified 5th in the seeding run for the knock-out phase of the competition, while Phillips ended up in 12th.
Phillips will attempt to reach the semi-final in a series of races on Thursday, while the women's event sees Reade go straight into the final knock-out stage prior to the final on Friday.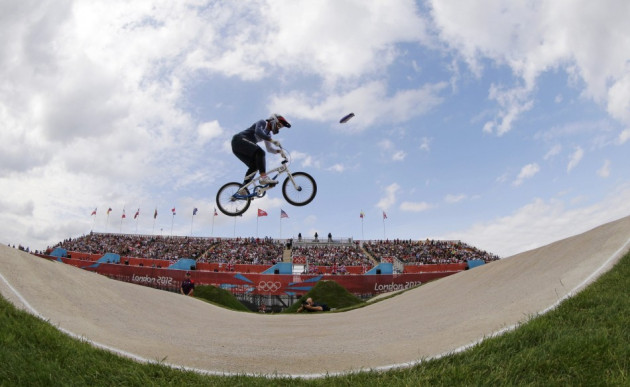 The five-time world champion came into the Olympic competition 30th in the world rankings having endured a host of injuries this season, and was forced to start third in the day one time trial.
With the 16 competitors competing for a decent seed ahead of the knock-out phase, Reade got off to an ideal start, clocking the fastest time of 39.368 seconds.
But soon she was overtaken by Laetitia Le Corguille, Mariana Pajon, Sarah Walker and New Zealand's Caroline Buchanan, who goes into Friday's semi-final as the No.1 seed.
The 23 year old Reade will have to finish inside the top four in the semi-final races to reach the final, where she'll want to better her finish from Beijing, where she went from favourite to crashing out.
Phillips, meanwhile had his own injury problems to contend with coming into the Games after breaking his collarbone during the World Championships in May, which threatened to ruin his Olympic dream.
But the world No.50 took full advantage of his injury fortune, by achieving the fastest qualifying time of 38.719 seconds after coming out seventh, but he quickly tumbled down the standings ahead of the quarter final.
Phillips eventually finished 12th, with Dutchman Raymon van der Biezen qualifying as No.1 nearly half a second ahead of Joris Daudet. Defending Olympic champion Maris Strombergs finished in 11th.
The seedings will dictate the gate places for each of the knock-out rounds.
The men go into a five round quarter final, with the best two riders from the first three races going through to the semi-final, and the best two riders from the remaining races joining them.
The women meanwhile go straight to the semi-final stage, which sees the best four riders from the three races from the two groups qualify for the final.