Shell Eco-Marathon: How the world's most efficient cars are shaping motoring's future
IBTimes UK drives two highly efficient prototype cars ahead of the Shell Eco-Marathon in London.
Race suit, helmet, kill switch, fire extinguisher, five-point safety harness. Perhaps competing to set a new fuel efficiency record is going to be more intense than we bargained for.
You join IBTimes UK at a tarmac circuit which laps around the outside of the velodrome of the Queen Elizabeth Olympic Park in east London, where Sir Chris Hoy and Laura Trott won gold in 2012. But instead of winning races and setting new lap records, we are being strapped into the ground-hugging Shell Eco-Marathon Prototype to use as little fuel as possible over a 1.7km lap.
But first, we get behind the wheel of Shell's Urban Concept, a vehicle built to be fuel-efficient but which also resembles a regular car, and could be made road legal without major modifications.
Despite trying our hardest to follow instructions and maintain an average speed of around 25km/h, the temptation to accelerate down the straight was too great and we end up posting a one-lap efficiency of 149 miles per gallon (53km per litre). Not the worst of the day and not the best, but useful preparation for the main event - driving the ultra-aerodynamic Prototype.
But before we clamber inside, let us first explain a little more about the Shell Eco-Marathon:
Established in 1985, the event is a student competition to create the most fuel-efficient vehicles possible. For 2017 the event comes to the Queen Elizabeth Olympic Park in east London as part of the company's Mark The Future Live show. Some 170 teams from schools and universities around the world will compete between 25-28 May.
There are two categories of car taking part, each with the option to use one of seven different fuels, including petrol, diesel, electricity and hydrogen. The Urban Concept category is for vehicles which resemble regular road cars. They are smaller and cruder but, as Shell has proved this year with one of its own, can be made road legal with a few modifications.
The second category is for prototype vehicles with extremely aerodynamic designs to maximise fuel efficiency at any cost - including, as you can probably tell, driver comfort. While in our inexperienced hands Shell's prototype managed just 200 miles per gallon, it is capable of over 500mpg - and some competitors will be hoping to achieve in excess of 10,000mpg with their own high-tech, carbon fibre vehicles.
Sitting barely an inch off the ground and just 70cm tall, the Prototype is unlike anything we've ever driven. The 'seating' position is more a case of lying down; legs stretched out in front, chin pushed towards chest by removeable canopy resting on crash helmet. Claustrophobia creeps in as the 4-stroke petrol engine is started and we acquaint ourselves with the steering bar and finger-controlled throttle and brake.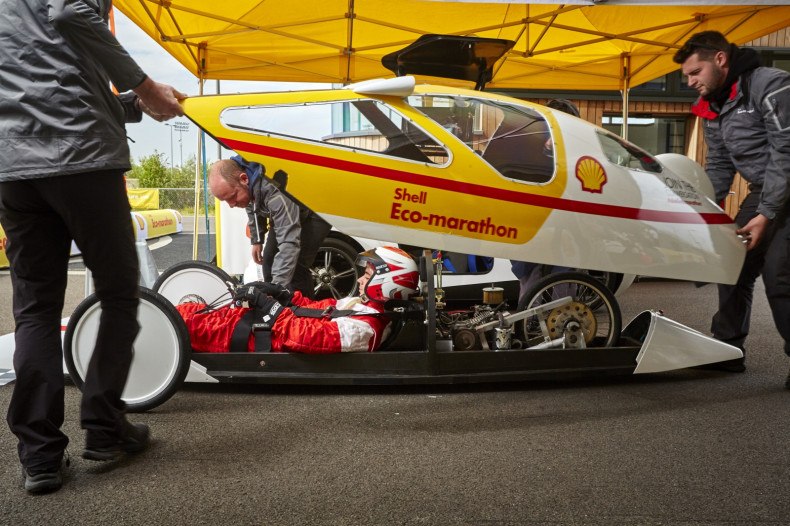 Visibility is limited but provides just enough of a view ahead to see where the track goes; the cockpit is already getting warm as we're given the thumbs-up to begin our one-and-only lap.
We apply full throttle for just a couple of seconds to get the Prototype rolling towards the first downhill section, remembering gravity is our friend and unnecessary acceleration is the devil's work. We coast around the first right-hander, then accelerate again briefly to give the car enough momentum to get up the first hill. Car and driver combined are barely more than 130kg, but with just 4.8 horsepower the engine's laboured soundtrack makes us weary of pushing too hard, for fear of it slurping up too much precious petrol.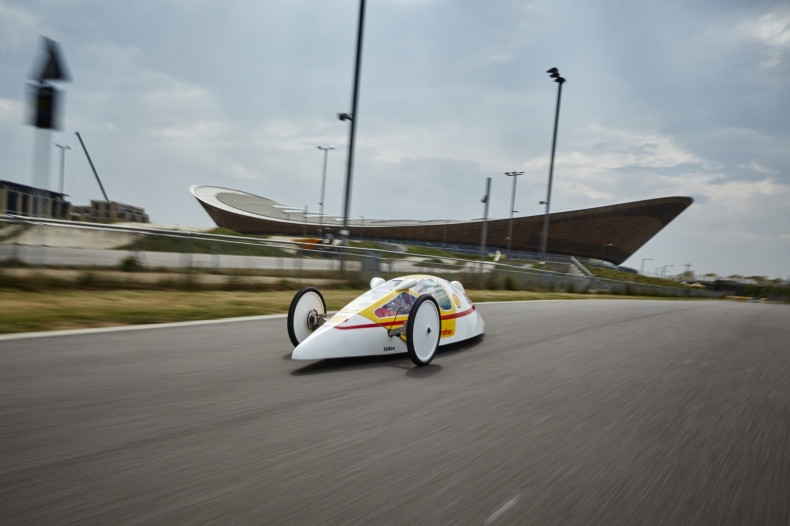 This is where driver skill (and perhaps our lack of) begins to come into play because it doesn't matter how frugally the car sips at its fuel, if the driver uses too much throttle the efficiency score will suffer. But equally, accelerate too little and you run the danger of failing to get up one of the inclines, or taking too long to set a score. During the actual Eco-Marathon competitors have a maximum of 39 minutes to complete 10 laps, any longer and they are disqualified.
We brush the accelerator trigger one last time before coasting through two downhill corners and to the finish line.
Commotion among the French-speaking Shell engineers as they remove the canopy makes us wonder if we've somehow run the Prototype out of fuel, but our worries are washed away when we're told the results; 17ml of petrol was used, which translates into 212mpg, 75.2km per litre, and the best score of the day. That being said, Shell claims the same vehicle can manage over 500mpg in the right hands.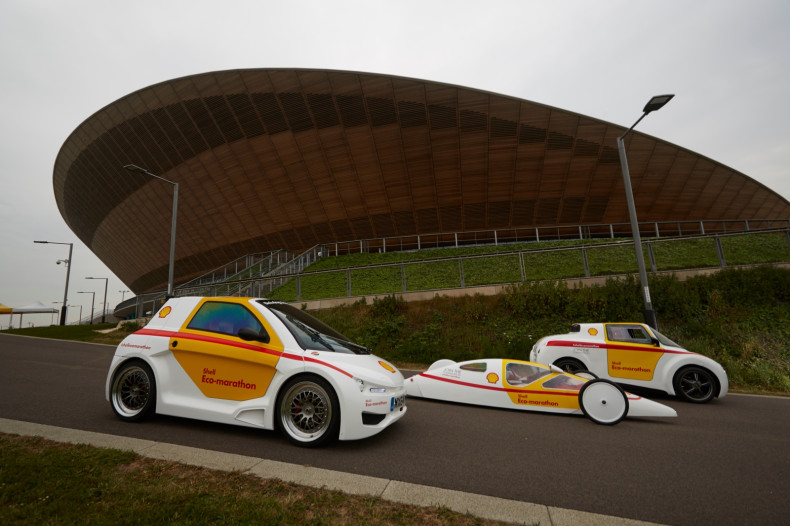 The Prototype might not bare much resemblance to a Toyota Prius, Tesla or Ford Fiesta Ecoboost, but many of the technologies developed by university students over the Eco-Marathon's 32 years have filtered down into cars on sale today, which across the board are more efficient than ever before.
Not only is this tournament a fun departure from the science lab or engineering workshop, it teaches students how what they learn in class can be applied to the real world, a world which needs tomorrow's students' efficiency breakthroughs more than ever.