Sheryl Sandberg, Facebook's chief operating officer, has said that the social networking giant needs to do more to combat electoral interference, terrorist content and fake news.
The US executive, speaking at Facebook's Gather event in Brussels Tuesday (23 January), said the Silicon Valley darling is now set to hire "thousands more people" to increase its oversight on both content and advertising, while doubling down on artificial intelligence (AI).
"We know that tech companies need to do better, and that we at Facebook need to do better," Sandberg said in a detailed and wide-ranging keynote address.
"We have a lot to improve. We have not done enough to stop the abuse of our technology. We've worked hard to maximise the benefits of our platforms, but we know we need to do more to minimise the negatives."
The Facebook chief reiterated plans to stop terrorist and violent material from spreading on the website, which currently boasts more than two billion monthly active users. She said this will include "major investments in AI", alongside a mix of machine learning and human review.
"We already have 10,000 people working on safety and security today, including content reviewers, technical staff, and subject matter experts, and we will double to 20,000 by the end of the year," Sandberg noted, adding "99%" of Isis content is removed before being published.
She said Facebook is working to create "a hashtag data-sharing base so that once content is uploaded to one platform, all the tech companies are working together to make sure that no one sees it anywhere else". Changes will reportedly be made to how the firm pays taxes.
"In just one recent example we heard the debate in Europe around tax and we voluntarily are changing the way we operate," Sandberg stated. "We're now going to pay taxes locally on revenue we earn locally. Just one change we're making to be responsive to concerns."
Of course, the elephant in the room was the 2016 presidential election. Facebook has testified to the US government that its platform was exploited by Russian trolls to spread propaganda.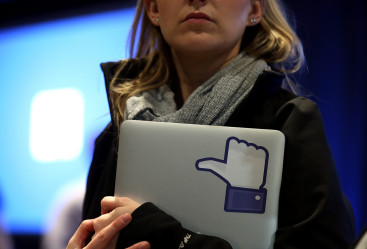 Sandberg said election meddling is "not new" but agreed technology complicates matters.
She noted: "We see a new kind of threat in the content people are producing online and we're doing all we can to prevent it. We're hiring thousands more people to increase oversight.
On fake news, she added: "We're disrupting the economics. People think that false news is often politically motivated, and it is, but it is even more frequently economically motivated.
"People write these headlines to get clicks to make money. So if we can prevent people from being part of our ad networks, prevent people from advertising and take away the financial incentive, which is one of the strongest things we can do against false news."
Facebook will soon roll out a new privacy centre to "make it much easier for people to manage their data" in accordance with strict European Union (EU) law.
It will launch a new Trust, Transparency and Control Lab to build privacy tools, Sandberg said.
In early January, Facebook founder and CEO, Mark Zuckerberg, said he would dedicate the next year to making his social networking giant a safer and more enjoyable place for users.
"My personal challenge for 2018 is to focus on fixing these important issues," he wrote in a blog post on his own Facebook profile." He added: "We won't prevent all mistakes or abuse, but we currently make too many errors enforcing our policies and preventing misuse of our tools."