Call it a public service announcement, Vladimir Putin style. A new bus shelter ad in Moscow features a huge photo of President Barack Obama smoking with the warning: "Smoking kills more people than Obama, and Obama kills lots and lots of people." It adds: "Don't smoke, don't be like Obama."
Dmitry Gudkov, the sole liberal member of Russia parliament, snapped a photo of the ad and posted it on Facebook. He called it "disgusting and embarrassing." His post quickly went viral.
An official for the mayor's office told Russian radio that the controversial ad will be removed. Spokesman Konstantin Grohov said it wasn't a "legitimate" ad, and that the company that maintains bus shelters reported that the poster had been glued over another ad by vandals, Newsweekreported.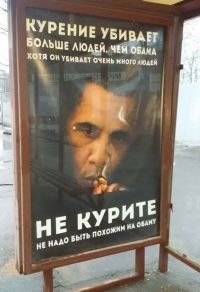 The ad, however, appeared to be inside the locked glass frame on the shelter. So far, no one has come forward to take credit for the message.
Gudkov claims the attitude towards Obama is becoming something of a theme in Russian society. "Soon they'll be scaring kids with Obama rather than Baba Yaga," the witch from Russian folk tales, Gudkov later told the Guardian.
In January, activists put up a banner that resembled an old Obama presidential election banner, but instead of the word "Hope" they had written "Killer." The image was suspended across the street from the US embassy in Moscow.
Russian students in early February created a video telling the United Nations that Obama needs to be "punished for thousands of lost lives," and another video posted on YouTube showed Russian students falling down while reporting that Obama kills 875 people each week. That video ends with the message: "Stop Obama."
Still another video — projected onto the sides of buildings in Moscow — featured Obama with devil horns eating Ukraine, Libya, Iraq, Afghanistan, and Syria, and blaming him for 56,000 deaths in those countries. The final caption reads: "Killer No. 1. Obama. Welcome to the Hague Tribunal in 2016."
There was no immediate reaction from the White House. And yes, the president does smoke, very occasionally.