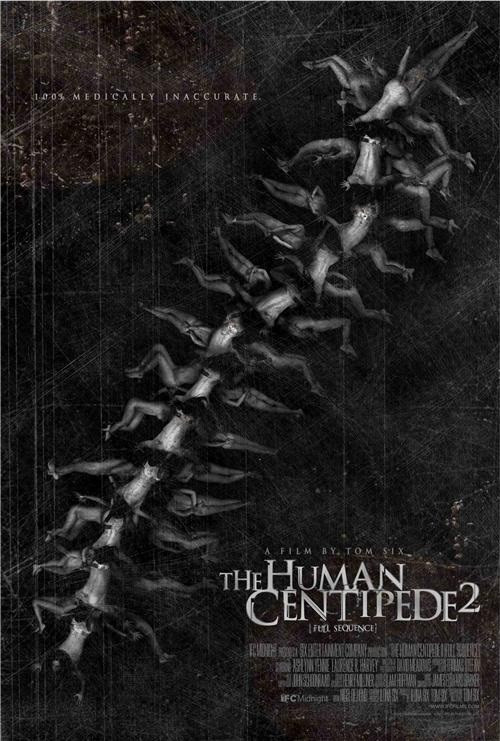 The "Human Centipede" film franchise shows no signs of ending with the release of the sequel "The Human Centipede 2," which has premiered at the Fantastic Fest film festival in Texas.
"The Human Centipede 2" is about a man named Martin (Laurence Harvey), who becomes sexually obsessed with a DVD recording of the first "Human Centipede" and imagines putting the "centipede" idea into practice, but this time with 12 victims.
With the shocking effects of "The Human Centipede" -- which was about a man who sewed together three people as part of an experiment -- still lingering on audiences, it's difficult to see how much worse the sequel will sit.
And it would seem that British audiences will not be able to see the sequel, as the British Board of Film Classification (BBFC) has refused a certificate to release "Centipede 2", which has been refused a certificate by the BBFC.
This means that the film can't be distributed in the UK at all, so finding even a DVD copy will be difficult.
Director Tom Six has previously stated that the sequel will make the first film look like "My Little Pony" quoted Worst Previews.
Although the movie's release date has become obsolete, the first poster has been circulating online gaining the predicted shocked response.
So much so that "The Human Centipede 2" has become a Trending topic, with Twitter users sharing their displeasure:
"im not watching human centipede 2 .. i almost threw up at the first one and this one is meant to be even worse!!"
"The Human Centipede" was bad enough, what could the possibly do in "The Human Centipede 2"?
"Omg no please no, why is Human Centipede 2 trending? I remember I saw the trailer for 1 and got traumatized for like 3 months"