This week marks 20 years since Euro NCAP began conducting car crash tests and awarding stars to help drivers identify safer vehicles. To mark the occasion and demonstrate how car safety has improved over two decades, a brand new car was crashed alongside a similar model from 1997.
Thatcham Research, which conducts Euro NCAP tests in the UK, crashed a 1997 Rover 100 (formerly known as the Metro) and a new Honda Jazz. Both are small, front-engined city cars with space for four adults, but 20 years of technological progress has resulted in two very different results.
Both cars were subjected to the same industry-standard test, which involves being propelled into a concrete crash block at 40mph. The crash is used to simulate straying across the road and striking an oncoming vehicle off-centre. A winch dragging the cars towards the crash zone releases them two meters before the block, which they hit with enormous force.
Slow-motion video footage shows how the older Rover immediately fold in on itself, with the roof buckled upwards, door open and the whole engine bay and dashboard is pushed inwards towards the driver and passengers. Only the test dummy in the driver's seat has an airbag, but still makes contact with the dashboard.
Before Euro NCAP began performing standardised tests, car makers were required to meet only basic legislative crash test requirements; the tests were carried out in-house and the results were not published. It was therefore impossible to compare the safety of one car to another, or have any idea of how a car would protect its occupants in a crash.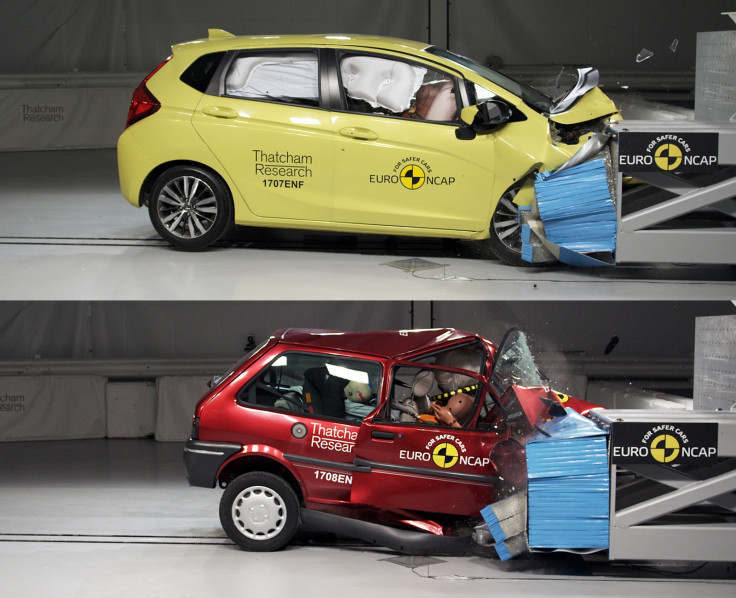 Fast-forward through 20 years and 629 different models tested, and the Honda Jazz shows how a modern car is designed to dissipate energy around itself and away from the occupants. The windows and windscreen remain intact, airbags deploy throughout the cabin and there is no intrusion from the engine bay. Now, 90% of cars sold in Europe carry a star rating; most sports cars, supercars and other rare and expensive vehicles are not tested.
Crash tests and the improvements they have brought mean UK car occupant deaths and injuries are down by 63% since 1997, while the number of pedestrians and cyclists killed or injured by cars has fallen 40% from 14,500 in 1997 to 8,500 in 2015.
In all, it is believed the tests have prevent 182,000 deaths or serious injuries on UK roads since 1997.
Peter Shaw, chief executive at Thatcham Research, said: "In 1997, many motorists were still choosing not to wear seat belts...You're now twice as likely to walk away from a car crash compared with 20 years ago...The focus now is all about crash prevention."
Going forward, the focus has shifted from surviving crashes to avoiding them altogether with the use of autonomous driving systems. Thatcham is calling on car makers to fit AEB (autonomous emergency braking) systems as standard to all new cars. For 2018 new tests will include 'lane assist' systems for keeping a car in lane on the motorway, and automatic braking which can see pedestrians and cyclists at night.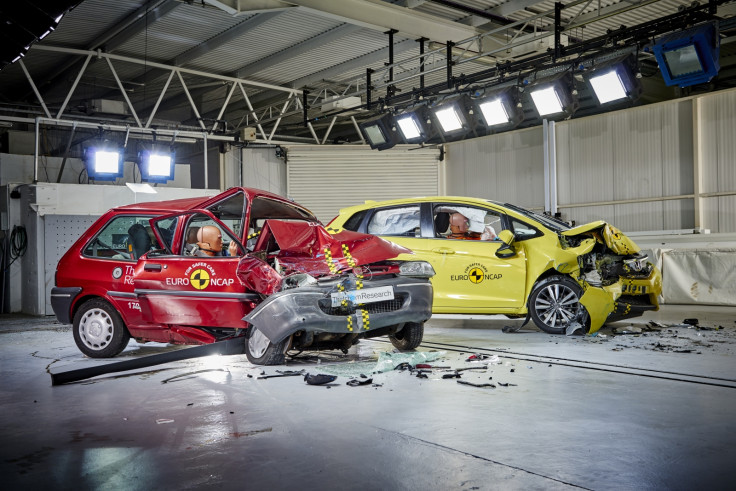 Michiel van Ratingen, secretary general of Euro NCAP, said: "We want to ensure that Europe's roads get even safer in the next 20 years, not just for car occupants but for all participants in traffic. We already test many more aspects of a car's safety than we did when we started in 1997, and that is set to continue. Next year, we will test systems that recognise and avoid crashes with cyclists, and we're lining up a very challenging roadmap for 2020 to 2025."
Max Mosley, the first chairman of Euro NCAP, said: "Twenty years on from what started as a controversial programme, rejected by manufacturers, and supposedly aiming for unrealistic safety standards, Euro NCAP is now firmly part of the automotive mainstream. Thousands of fatalities have been prevented, consumer demand for safety is high, manufacturers compete on safety rating results, and vehicle safety standards continue to improve."