Almost a million people used emergency food banks over 2013/14, trebling the number needing the service from a year earlier.
A decade ago food banks hardly existed in the UK. They are a relatively recent phenomenon whose development accelerated in the wake the financial crisis in 2008.
But where did the concept of food banks come from? According to the European Federation of Food Banks, the idea started after John Van Hengel, from Phoenix, US, saw a widow and her 10 children looking through rubbish behind grocery stores for food.
He helped her find edible food and asked the store owners to give him the products they would have thrown out so he could distribute them to the needy.
The first food bank was set up in Europe in 1984. Cécile Bigot heard of food banks through Francis Lopez, who set up the Edmonton's Food Bank in Canada. She contacted several charities with the idea in a bid to help Paris' poorest amid rising poverty in the capital city.
This was shortly followed by the establishment of the first food bank in Brussels, after which the European Federation of Food Banks launched in 1986.
Food banks spread across Europe after this, with centres set up in Spain, Italy, Ireland and Portugal by 1992. Between 1994 and 2001, food banks appeared in Poland, Greece and Luxembourg.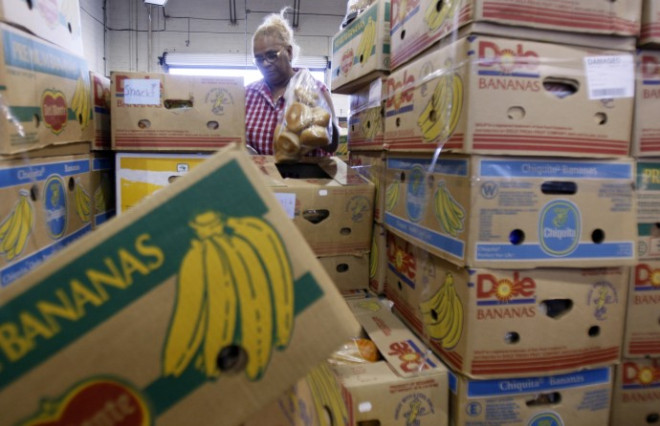 The UK and wealthier nations did not set up food banks until later. Since 2004, they have been established in the UK, Germany and Hungary.
Food banks became increasingly prevalent following the financial crisis in 2008 and after austerity measures were introduced by the government in 2010.
In the UK, most food banks are co-ordinated by The Trussell Trust, a Christian-based charity that had just two food banks in 2004. It now has 423 food banks from which 913,138 people received three days' emergency food last year.
How do food banks work?
All food donated to the Trussell Trust by the public is sorted by volunteers. Frontline care providers, such as doctors and social workers, then identify people most in need. They are then given food packs with three days of nutritionally balanced meals in exchange for a food voucher.
Trussell said their latest figures have triggered the "biggest ever faith leader intervention on UK food poverty in modern times".
Charity chairman Chris Mould said: "That 900,000 people have received three days' food from a food bank, close to triple the numbers helped last year, is shocking in 21st century Britain.
"But perhaps most worrying of all this figure is just the tip of the iceberg of UK food poverty, it doesn't include those helped by other emergency food providers, those living in towns where there is no food bank, people who are too ashamed to seek help or the large number of people who are only just coping by eating less and buying cheap food.
"In the last year we've seen things get worse, rather than better, for many people on low-incomes. It's been extremely tough for a lot of people, with parents not eating properly in order to feed their children and more people than ever experiencing seemingly unfair and harsh benefits sanctions.
"Unless there is determined policy action to ensure that the benefits of national economic recovery reach people on low-incomes we won't see life get better for the poorest anytime soon."