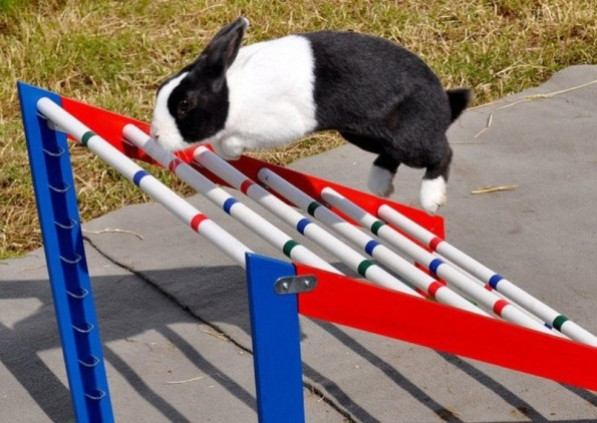 The sport of show-jumping rabbits is taking off by leaps and bounds. It began in Sweden in the 1980s and is now becoming increasingly popular in the UK.
The bunnies can jump up to five times their height, and the official world record in high jump for rabbits is 1 metre (39.37 in), by Snöflingans Majesty of Night & Tarkan Sönmez, of Sweden.
"In Sweden it's so normal, everyone has done it," said Karin Molin, 25, who has trained show-jumping rabbits since she was five. Since this equestrian-style sport took off in the early 1980s, Kaninhop, the Swedish name for the animal sport, has spread across Scandinavia to Germany and Switzerland.
Molin's rabbit, Micro, easily clears hurdles five times its height, and she said her 18 jumping bunnies live longer than ordinary pets - up to 12 years old - because they were so fit. Fed ordinary hay, pellets and vegetables, the quality she most prized is speed - after that, the jumping comes naturally. "You can't force them," she told the Guardian.
In the UK, rabbit show-jumping courses such as in Pontefract, have rubber mats rather than grass, as this tends to distract the bunnies.
The organisation Rabbit Jumping UK organises information sessions for the public as part of training for national events.
The practices also include advice on how owners can care for their long-eared bunny equestrians and have them microchipped.
Kayleigh Hopkinson, secretary of the group, told the Pontefract & Castleford Express: "We want to educate people about the welfare of rabbits.
"Many people don't realise how much hard work goes into owning one and they're the third most popular pet after cats and dogs.
"We also want to teach people about rabbit jumping too. It's local and free, so come and have a go."
Rabbit show jumping is also known as rabbit dressage, or in Sweden, it is known as or Kaninhoppning. There are now more than 50 rabbit show-jumping clubs throughout Scandinavia.
Some people compare rabbit showjumping to equestrian showjumping. Trainers can win titles and awards during events sponsored by groups such as the American Hopping Association for Rabbits and Cavies (Guinea Pigs), U.S.
The official world record in long jump for rabbits is 3 metres (118.11 in), by Yaboo & Maria Jensen (Denmark).
Want to see some bunnies jump? Click below to watch the UK's 2011 Rabbit Grand National.