Charlie Hebdo's lawyer has criticised as "indecent" plans to launch a pastiche of the satirical newspaper.
The parody, called 'Charpie Hebdo', literally 'Shredded Hebdo', is the creation of Julien Saint-Guillaume, the director of publishing company Sonora Media, which publishes other spoofs, including the Connard (a French insult and a word play on the satirical newspaper Le Canard Enchaîné).
The existing Connard, a bi-monthly, which describes itself as "fouteur de merde" (a vulgar term meaning "a s**t stirrer") said it had taken its decision to launch its own "Charpie Hebdo" mid-January, only a few days after the 7 January, 2015, terror attacks.
In a registered letter, Charlie Hebdo's lawyer Richard Malka firmly opposed this launch.
He asked Sonora Media to give up the idea on 8 February, before the publication's anticipated publication on 11 February "only a few weeks after the terrorist attacks that occurred on 7 and 9 January (... ) and caused the death of seventeen people," Malka wrote.
"In this context, the 'Charpie Hebdo' obviously refers directly to these events and the victims, which seems perfectly indecent, " Malka said, adding the pastiche was "well above the laws of the kind of acceptable satirical comedy".
While the publication has not yet been launched, Malka's formal notice remains relevant.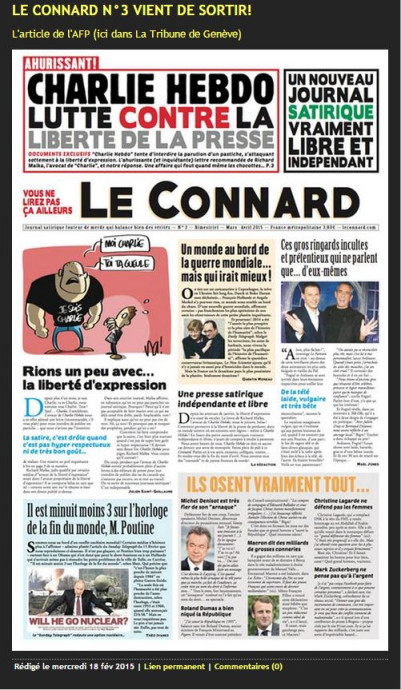 Meanwhile, Sonora Media, whose publications are available in French newsagents, has rejected Malka's demands.
"There is no acceptable satire and unacceptable satire. This is proof that Charlie Hebdo wants to set limits on the freedom of the press," Saint-Guillaume said.
The director claimed he has used the name 'Charpie Hebdo' for the past five years in his own publications -- Le Connard and Le Monte (a wordplay on daily newspaper Le Monde) when refering to Charlie Hebdo.
Saint-Guillaume said he is not renouncing the idea of one day starting the spoof.
"We had given up but after Malka's letter, we'll do it one day, of course," he added, without specifying any date.
Sonora Media also publishes La Presse Satirique, and Le Monde des Medias, spoofs of the serious newspaper, Le Monde Diplomatique.