In Sierra Leone, swabs taken from a woman who died last month (29 August 2015) in the north-west of the country have tested positive to Ebola, setting back efforts to beat the epidemic. There had been celebratory scenes last week when the country's last-known Ebola patient was released from hospital in the central city of Makeni after being cured of the virus. His discharge raised hopes the West African state, one of the three most affected by Ebola, may finally have beaten the devastating epidemic. No new cases had been detected since 8 August.
The woman who died was in her mid-60s and came from the village of Sella Kafta in the Kambia area. According to several sources quoted by Agence France-Presse, the woman had not recently visited Guinea and Liberia – neighbouring countries also affected by the epidemic.
"All our teams are on deck," said Sidi Yayah Tunis, a spokesman for the National Ebola Response Centre (NERC), a department of the Ministry of Health of Sierra Leone.
50 people isolated in Ebola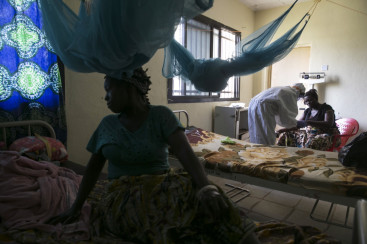 The team in charge of the fight against Ebola in the Kambia district identified and isolated 50 people who have been in contact with the now-deceased patient. Of these, 20, who are considered at high risk, have been placed with their agreement in a specialised centre.
"We are seriously considering to quarantine all the inhabitants of the village. This new case comes six days after the healing and the release of the last patient hospital who contracted the virus in our country," Tunis said.
"We are progressing with significant results in our fight against the epidemic. But we know that to defeat the disease, we must prevent new infections after this new case. You know that Guinea has just completed a series of successful tests at the vaccination. Several Guinean teams are currently in Sierra Leone, and we deployed a vaccination team precisely in the village of Sella Kafta."
As of 30 August, out of 8,698 people who have contracted Ebola in Sierra Leone, 3,586 have died. Liberia was declared Ebola-free on 9 May after 42 days without a new case.
In July, the World Health Organisation (WHO) deemed itself insufficiently equipped for global health crises. Following the Ebola crisis, where WHO was criticised for not keeping officials and the public sufficiently informed, the health body commissioned an independent review of its operations, which revealed the organisation was slow to respond to the pandemic.