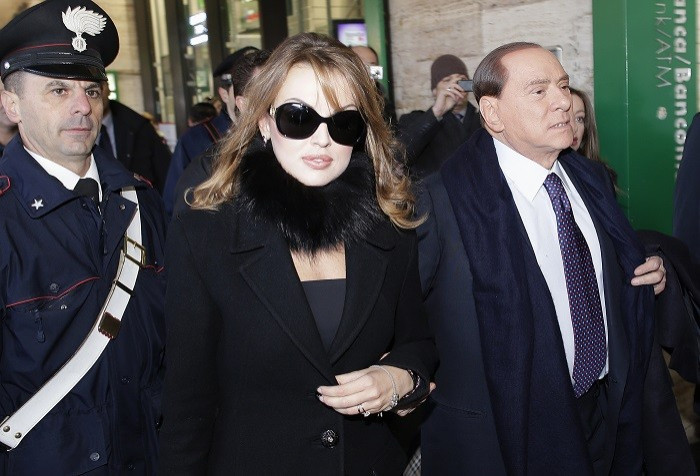 Francesca Pascale, the fiancée of disgraced Italian billionaire politician Silvio Berlusconi, is threatening to sue a Bulgarian actress for claiming that she is a lesbian.
Michelle Bonev, a Bulgarian actress and former friend of Silvio Berlusconi, wrote on her blog: "The 'love story' between Francesca Pascale and Silvio Berlusconi [is] a big sham, because Francesca is lesbian, and I have been more than a friend to her."
The allegations prompted a strong response from Pascale, 28, who threatened legal action.
The claims were "defamatory and without any basis in truth," she said through Berlusconi's lawyers.
But Bonev wasn't backing down. "If it comes to a legal case, I'm ready to repeat everything in front of a judge," she said.
"Many times Silvio asked me to take her [Pascale] away from Arcore (his mansion near Milan), saying that she was a bad person and she was blackmailing him," the Bulgarian model, who now works as a producer, wrote on her blog.
"Silvio only decided to make the engagement public so that he could continue to have fun with her and her 'friends' and so as not to be judged badly by public opinion. But he's ended up with a girlfriend who is bossy and without scruples."
The 42-year-old actress has hit the headlines before. In 2010, Italian media revealed that Bonev received a "fabricated" award created just for her at the Venice Film Festival for her movie Goodbye Mama.
Pascale described her new life with Berlusconi at his palazzo in Rome in an interview this week with Oggi, an Italian weekly magazine.
She complained that she had been unfairly portrayed as an opportunistic "hyena" who had chased away the models and alleged call-girls from Berlusconi's "bunga bunga" entourage.
She is keen to be seen as a frugal housewife, and had set about reordering his household, conducting a "spending review" in which she found that Berlusconi was being massively over-charged for catering supplies.
His staff were paying 80 euros a kilo for green beans - more than 16 times the going rate.
The ex-premier's caterers were also purchasing huge quantities of expensive fresh fish, despite his dislike of the odours of frying fish.
"Huge crates of fish were arriving, even though they all know not only that he doesn't eat fish, but he hates the smell when it is being cooked," Pascale said.
Meanwhile, Berlusconi's woes continue, as he fights a prison sentence. He has formally requested a year of community service rather than be jailed or put under house arrest after his conviction for tax fraud, according to a legal source.
The 77-year-old former prime minister was sentenced to four years' jail in August, commuted to one, for masterminding a massive tax fraud scheme at his Mediaset television empire.
According to a Reuters report, because of his age he is almost certain to be allowed to stay out of prison, making either house arrest or community service the most likely ways that he will serve his sentence.