The UK's lesbian, gay, bisexual, and transgender (LGBT) community can and should trust the Liberal Democrats, according to Sir Simon Hughes.
The former justice minister, who lost his Bermondsey and Old Southwark seat at the 2015 general election to Labour's Neil Coyle, told IBTimes UK that his party has been relentless in its pursuit of championing LGBT rights.
"The big issue in the election is about the destiny of Britain," Hughes said.
"We've argued always that it is a destiny that should be inclusive of all communities from all parts of the world, that clearly includes members of the LGBT community.
"We are the party who have consistently, and I know this because I've been a member of the party since my teens, argued for gay rights at home and abroad and have never relented in championing that cause and have delivered many positive outcomes as a result of that."
The comments come just a day after Liberal Democrat leader Tim Farron, an evangelical Christian, failed to tell ITV's Robert Peston whether he thought gay sex was a sin or not.
Hughes, an Anglican Christian who identifies himself as bisexual, said: "I didn't hear the interview you're talking about [and] I'm not going to get into the semantics of the discussion. We have a very clear view which is that gay people must be respected, valued and treated equally."
As for how he is going to overturn Coyle's majority of more than 4,400 votes on 8 June, the Liberal Democrat's pro-EU stance is at the heart of Hughes' campaign. The former MP is "fighting to give the people the final say on Brexit", according to his campaign literature.
But isn't the Prime Minister Theresa May putting it to the people by calling the general election? "Whether you voted Leave or Remain, we believe that you would want to see the terms of a deal negotiated and have a say on those terms," Hughes said, referencing the Liberal Democrat policy to hold a second EU referendum.
Will the Liberal Democrats rule out a tax rise?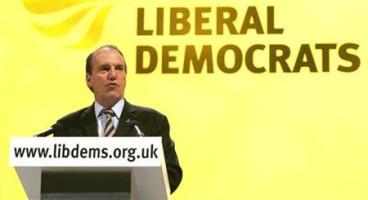 Elsewhere, tax and spending has become a major part of the election campaign, with the Conservatives promising in 2015 that they would not raise income tax, VAT or National Insurance Contributions.
Chancellor Philip Hammond, however, has recently said that the Tories must be "flexible" about hikes, a suggestion that his party's manifesto could include increases.
Hughes said the Liberal Democrats will not rule out raising taxes in the party's general election manifesto.
"I don't imagine for a minute that we will be a party that says we will never raise taxes because you can't run a welfare state, with increasing numbers of people and increasing numbers of old people, without asking for more money," he told IBTimes UK.
"The question is how do you collect the money and how do you do it fairly? We've always argued that those with the ability to pay more should pay more and those and that we should lower the burden for those who are at the bottom end of the income scale.
"We did it brilliantly in coalition, we drove the change that raised the personal [tax] allowance threshold. It's higher now than it has ever been."
The latest YouGov poll, of more than 1,500 people between 20 and 21 April, put the Liberal Democrats on 12%, with the Conservatives on 48%, Labour on 25% and Ukip on 5%.