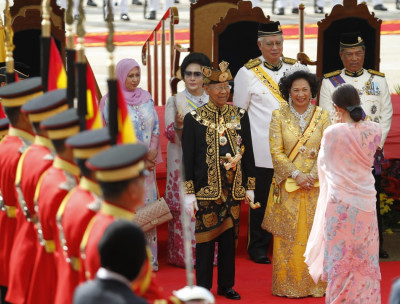 Malaysia has welcomed Sultan Abdul Halim Mu'adzam Shah as its new king in a pompous nationally televised ceremony attended by hundreds of dignitaries.
The 84-year-old sultan will be the oldest constitutional monarch in the country's history, AP reported. He succeeds one of Malaysia's youngest kings, Sultan Mizan Zainal Abidin, who was only 49 years old.
According to the Malaysia's system, nine hereditary state rulers take turns as the country's king for five-year terms. Although the role is largely ceremonial, the monarch is highly regarded, particularly among the ethnic Malay Muslim majority.
"The king is the umbrella to the people and the people are the pillars of the king," Sultan Abdul Halim said in comments issued by the national news agency, Bernama. "The king's greatest role is to ensure there will be no cruelty and destruction to the people and to the country."
A big fan of Frank Sinatra, Dean Martin and Nat King Cole, Abdul Halim is the sultan of Malaysia's northern Kedah state. He is the first to ascend the throne twice, as he was king for five years in the early 1970s.
The ceremony took place amid international concern over the country's commitment to human rights, such as freedom of expression.
Christians are still discriminated against in Malaysia and those who want to sing Christmas carols during the festive season are required to obtain a police permit, according to a new law in the country. Bishop Paul Tan said that these conditions have made the country "very nearly a police state".
Thousands of people gathered in the streets of Kuala Lumpur in July demanding electoral reforms. Prime Minister Najib Razak had raised hopes of civil reforms, but laws which forbid criticism of the king and state sultans remain in force. Under Malaysian sedition laws, people who incite "hatred or contempt" towards the monarchy can be imprisoned for up to three years.