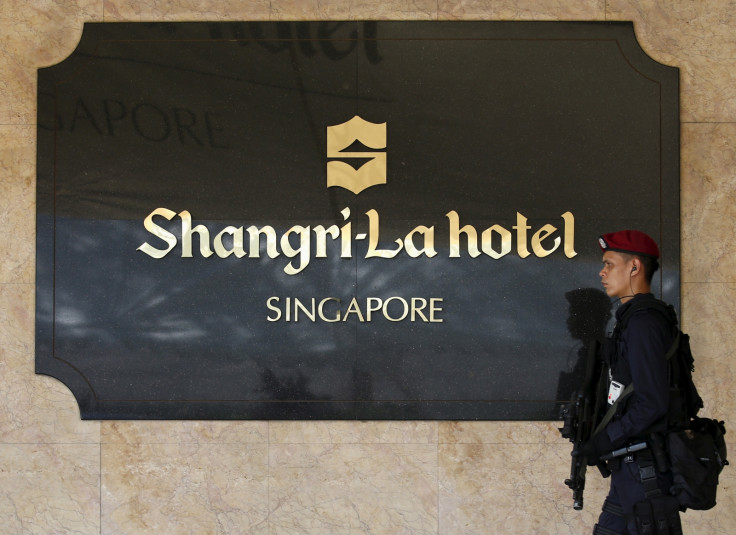 Police have shot dead a man and arrested two others near the Shangri-La hotel in Singapore where a three-day Asia-Pacific defence summit is under way.
The three men were in a car that was stopped at a police checkpoint. The 34-year-old driver of the Subaru Impreza suddenly accelerated when police asked for inspecting the boot of the vehicle.
Despite several warnings, the car crashed through barricades forcing the police to open fire, killing the driver.
All three, including the two arrested, aged 26 and 31, are Singaporeans.
An injured person is being treated at a nearby hospital.
In a statement, the Singapore Police Force said no arms or explosives were found. But a bag containing controlled drug substances was recovered.
"Police and officers from SAF's Chemical, Biological, Radiological, and Explosives [CBRE] Defence Group have searched the vehicle involved in the incident at the vicinity of Shangri-La Hotel. A bag containing white powdery substances believed to contain controlled drugs was recovered in the vehicle."
Police said they were in control of the situation.
Investigators suspect this is an isolated incident and has no link to the ongoing conference, which is being attended by delegates from across the world.
Defence ministers from Asia-Pacific nations and US Defence Secretary Ashton Carter are also taking part in the summit which concludes later on Sunday, 31 May.
The roads near the venue of the conference were cordoned off for a brief while. They were later thrown open to traffic.