The Sky News reporter, who was vilified on social media sites for rummaging through the personal belongings of a MH17 victim, said it was "an error of judgement".
Colin Brazier has spoken out following his impromptu live report from the crash scene in eastern Ukraine, admitting he "was crossing the line" by handling items inside a child's suitcase.
Within minutes, he realised his mistake and apologised on-air but his actions were heavily criticised on Twitter and his report soon went viral.
Writing in The Guardian, Brazier said: "While presenting Sky's lunchtime coverage of the flight MH17 disaster, I stooped down to look at a piece of debris. It was a child's suitcase.
"I put my hand inside and lifted up a water bottle and a set of keys. As I did so, my mental circuit-breaker finally engaged and I apologised instantly on-air for what I was doing."
He said that he and his team decided to avoid filming any corpses at the scene but wanted to focus on people's belongings as they "brought home the poignancy of the tragedy".
"They told a story of lives – swimming trunks, laptops, duty free, books – snuffed out in an instant.They provided the backdrop for me to ask why victims were being left to rot in the sun. Other journalists, some well-known broadcasters, were handling belongings and speaking to camera. In a place without rules, I foolishly took that as a precedent," he said.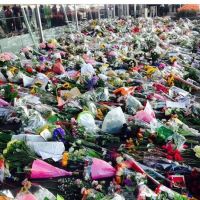 The father-of-six also admitted to "blubbing on air" while covering the scene, which critics could not hear because of "the sound quality of internet replays of the broadcast".
"Too late, I realised that I was crossing a line. I thought aloud: 'We shouldn't be doing this... this is a mistake,' an instant apology that was only selectively quoted by those determined to see what I did as a powerful example of journalistic vulturism," Brazier added.
Media regulator, Ofcom, has so far received more than 100 complaints regarding the Sky news report and said it was assessing whether it would open an investigation.
A Sky News statement said that "while presenting from the site of the MH17 air crash Colin Brazier reflected on the tragedy of the event and showed audiences the contents of one of the victim's bags.
"Colin immediately recognised that this was inappropriate and said so on air. Both Colin and Sky News apologise profusely for any offence caused."
The downing of the Boeing 777 killed all 298 people on board, including 154 Dutch and 10 Britons. The anti-Ukraine rebels have since handed over the flight's recorders to Malaysian officials. This will give information about when and where the plane went down.