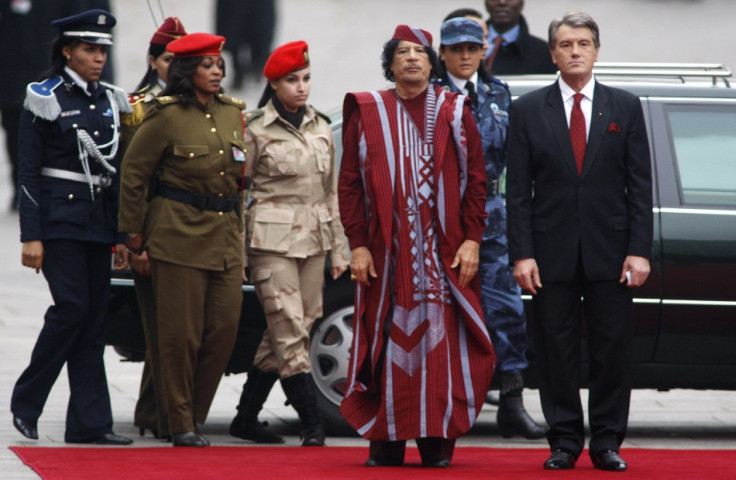 The man who ruled Libya with an iron fist was known to move around with female bodyguards. Col. Moammar Gadhafi's elaborate lifestyle and a host of stories about his personal life were often as much in the limelight as his notorious rule over his country. Surprisingly, for a ruler of a country, he was always prepared to flee. At his home in Tripoli, he lived in a well-fortified compound with a complex system of escape tunnels.
Virgin Bodyguards
When it came to his personal life, Gadhafi was best known for his famous entourage of female bodyguards. The primary qualification for aspiring candidates, apart from being female, was that one ought to be a virgin. Some say that he demanded their sexual favors as well. Unlike usual bodyguards, these "special" bodyguards were always decked up, sporting high heels and designer sunglasses.
They were all, reportedly, graduates of the Tripoli Women's Military Academy, an "elite" institution Gadhafi founded in 1979. Their everyday schedule reportedly was: waking up at 4:30am, 90 minutes of jogging and then classes, mostly centered on killing techniques. Most of them were experts in flying fighter jets and hand-to-hand combats. They were all, reportedly, handpicked by Gadhafi himself. All of them took an oath to protect Gadhafi to the death - and refuse both marriage and sex.
Family
Gadhafi married twice. His first wife, Fatiha, according to the BBC, was a school teacher. They separated after six months and have a son Muhammad. His second wife, Safia al-Gaddafi, is the mother of his seven other sons. Yet another woman in Gadhafi's family circle was his Ukrainian nurse Galyna Kolotnytska, who recently deserted Gadhafi when a Ukrainian defense ministry aircraft flew 185 people out of the North African country in February. A WikiLeaks cable described her as a "voluptuous blonde, someone the Libyan leader relies on heavily, to the extent that he cannot travel without her, as she alone knows his routine."
The WikiLeaks cable also stated: "A Ukrainian political officer recently confirmed that the Ukrainian nurse 'travels everywhere with the Leader.'"
His daughter, Aisha Gadhafi, is described as the "Claudia Schiffer of North Africa" by the Arabic press. The Telegraph reports that she is a lawyer, is married to Ahmed al-Gadhafi al-Qahsi, a cousin and army colonel, and is the mother of three children. She was also a part of the team of lawyers who defended former Iraq President Saddam Hussein in the war crimes trial.
Arabian Nights Tent
Gadhafi had a "bulletproof" tent without which he would never travel. He always brought a bit of the desert with him, camping out in the world's capitals. The tent was apparently so heavy that it needed to be flown on a separate plane, wherever he travelled. It didn't stop with that; Gadhafi would often tether a camel or two outside the tent.
Crush on Condoleezza Rice
The former dictator, apparently, had a crush on Condoleezza Rice, the former U.S. Sec. of State calling her his "darling black African woman". In 2008, when she visited Tripoli, the dictator is reported to have given her $200,000 worth of gifts, including a ring and a lute. His obsession with Rice didn't stop there. When, rebels stormed his Tripoli compound, among Gadhafi's belongings was a carefully composed photo album made up of dozens of images of Rice.
Fear of Flying and Elevators
The main reason Gadhafi loved travelling with that tent of his was his fear of elevators. He didn't like heights either. It is reported that he would only climb to a height of 35 steps. The dictator also refused to travel by air for more than eight hours at a time. Whenever he left for New York, he would spend a night in Portugal on the way to the U.S.
Bunga Bunga parties
According to Italian Prime Minister Silvio Berlusconi, Gadhafi was his "bunga bunga" or the orgy party inspiration. This was exposed when a 17-year-old prostitute confessed details of Berlusconi's parties to Italian prosecutors.
"Silvio told me that he'd copied that formula from Muammar Gadhafi," she told prosecutors, according to La Repubblica, "It's a ritual of [Gadhafi's] African harem."
Ornate Wardrobe
His wardrobe was filled with ornate military uniforms, Miami Vice-style leisure suits and Bedouin robes. Gadhafi also had a fetish for decorating his outfits with garish pins or necklaces typical of Africa.
Papa's Gold Watches
Oksana Balynskaya, Moammar Gaddafi's Ukranian nurse, says that the dictator used to gift them gold watches every year. She revealed that his staff used to call him "Papa" affectionately.
"On September 1 every year, we were given Italian gold watches with his picture on them. People who have been working for him for 6 or 8 years, have already got an entire collection of gold watches," Oksana said in a statement.