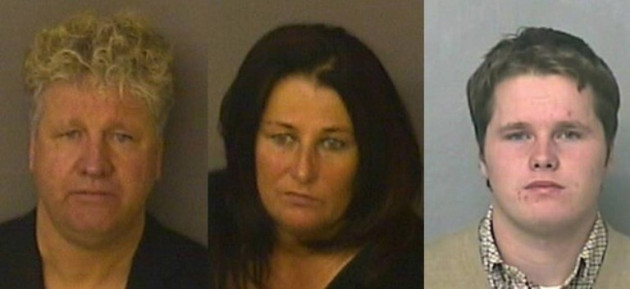 Three men, believed to be in their thirties, forties and fifties, are receiving treatment at a safe house after being rescued from a number of locations in the South West of England.
Avon and Somerset police, who were investigating forced labour and human trafficking allegations, raided three travellers' sites, homes in Gloucestershire and Bristol, and a business unit.
Two people have been arrested on slavery charges and five others arrested on suspicion of cannabis production, money laundering and handling stolen goods. A significant amount of money was also seized at one of the properties.
Chief Superintendent Julian Moss, head of CID, said the force had been working with a number of agencies including South Gloucestershire NHS Clinical Commissioning Group, the National Crime Agency, the Red Cross and the charity Unseen since November.
"This is an ongoing and dynamic inquiry," said Moss. "Our primary aim is to safeguard and protect vulnerable victims. Some of those affected will not view themselves as victims and, even if they do, may have been unable to speak to the police or any other authorities for a variety of reasons. Today's operation is a very visible statement of our intent to protect people from this type of exploitation."
Recently there have been a number of cases of suspected slavery involving members of the traveller community. Also in Bristol, five members of the Connors family were found guilty of imprisoning and beating men to make them work. Tommy Connors senior was jailed for eight years and his son Patrick to five years. In an earlier related trial, Connors' daughter Josie and her husband James John were jailed for four and 11 years respectively.
The court heard that vulnerable men - often alcoholic or homeless - were picked up, beaten and forced to live in squalid conditions while the Connors family lived a life of luxury.
In a separate investigation at a travellers' camp in South Wales, three members of the Doran family were recently charged with false imprisonment, conspiracy to hold a person in servitude and conspiracy to require a person to perform forced or compulsory labour.
However, speaking after today's raids Chief Superintendent Moss cautioned against tarring all members of the traveller community with the same brush:
"I understand this morning's operation may be of concern to local residents and the wider travelling community. It's important to recognise that the actions of a small minority of people are not reflective of the wider travelling community. Similar investigations in other parts of the country show the issue of forced labour, domestic servitude and human trafficking is prevalent in many areas of society."
The issue of modern slavery has gained prominence in the UK following the recent case of three women rescued from a house in Brixton, south London.