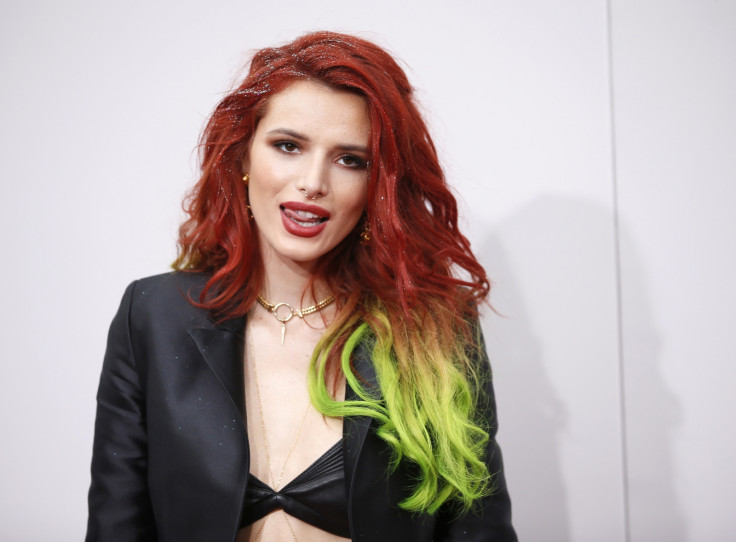 It looks like Christmas is here a little early for Disney star Bella Thorne, who has been teasing her fans with some "slutty Santa" vibes on social media. Dressed in the traditional red-and-white colours, the 19-year-old actress took to Instagram to post a red-hot lingerie photo.
"Am I allowed to dress up year round?" Bella wrote alongside the image celebrating #FlashbackFriday on Instagram. The Famous In Love star's sensuous seasonal costume included a body-hugging minidress complete with red and white stripped stockings, killer pumps and a Santa cap.
While it might be too early to spread the Christmas cheer, Bella's sexy flashback indeed sparked a lot of debate on social media. Some fans were thrilled to see their favourite actress play dress-up in the middle of August, but many seemed critical of her choice of clothing.
Slamming the teen star for her suggestive dressing, one fan wrote: "Dress up like a tramp...thought you already did that."
"I miss the old Bella," shared a second Instagram user, as someone else wrote: "First of all it's fucking August and you don't look sexy," and a third asked: "What happened to the old Bella?"
Amid the spate of not-so-subtle messages, however, several fans pointed out that it was not even time for Bella to put on her Santa cap, considering Halloween is still two months away.
"Are you so dyslexic you don't know what time of year it is," read a furious comment. "Even Gretchen doesn't think this is fetch. Sorry not gonna happen," said another.
As the criticism continued, some took a sarcastic approach and called out the actress using her own photo caption. "You already are, with those crazy hair colours and weird faces. You don't need a costume honey," a user wrote, referring to Bella's request to "dress up year round".
Another one skeptically added: "What happened to Disney channel Bella Thorne?"