Voice-activated smart devices can be used for alerts, alarms and web searches – but what about reporting crime? It may seem far-fetched, but one police force believes it's possible.
Popular products such as the Amazon Echo and Google Home – now a fixture in households around the world – will soon be used to access real-time crime warnings and breaking news alerts, according to Rob Flanagan, an innovation chief at Lancashire Police.
In a speech at a College of Policing conference, first reported by the Daily Mail, Flanagan said the force is set to roll out a number of localised crime updates that can be accessed via voice-activated devices.
In theory, it will be as simple as asking Alexa – the name of the speaker's assistant – for any fresh police updates.
Flanagan said that, initially, the force will use the technology to let officers ask for information on everything from terror attacks to daily crime reports.
Ultimately, officials are hoping the move will reduce strain on 999 call centres used to report UK crime.
While an exact time-scale was not confirmed, Flanagan said some of the updates could be introduced in the first few months of 2018, between February and March.
While basic in scope, the officer said it will "provide information to the public on specific things such as a response to questions like 'how do I report this?' or 'what do I do with this lost property?'"
Flanagan said: "If we can give officers and leaders the information that is needed in the quickest time possible, in the easiest way then I think we will see real efficiencies.

"I would like to be the first force to use this for crime reporting. We are a long way off from that, but the technology is there. We would definitely be there by the end of 2018."
Lancashire Police chief constable Andy Rhodes said were there will be an "opportunity for people to get information", but acknowledged that a number of challenges would remain.
He said: "We think there is quite a lot of information people may prefer to get by asking Alexa. For our staff it's great for internal messaging, say there has been a serious incident.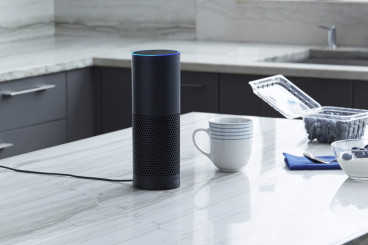 "You could do crime reports, but where the information is stored is the issue. It would not be stored on the police system so I would have concerns about whether that was appropriate.
"I would not want police to be sending a message to a victim of crime, 'speak to Alexa.'"
He added: "It's very early days, we are just starting to use this."
Despite the embrace of modern tech to boost efficiency, Millie Graham Wood, legal officer at Privacy International, warned there would be significant data protection issues.
"Police want to improve communication with the public but is this really the most appropriate mechanism?" she told the Mail. "If you are asking people to report crime via Amazon and give personal details it would raise a whole raft of problems.
"How secure is that information and should police briefing be based on algorithms?"