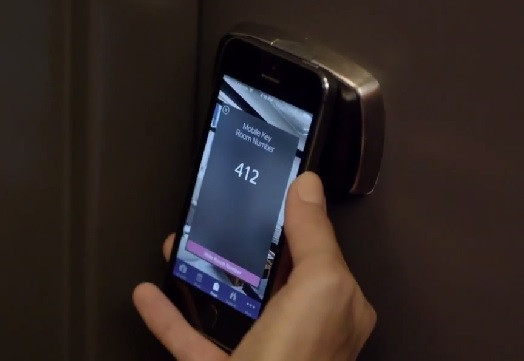 The US-based Starwood group of hotel chains has begun letting guests unlock their rooms with a smartphone instead of a traditional key or card.
Launching this week at 10 hotels, Starwood plans to extend the system to 30,000 rooms in 140 hotels by early next year, as the company's Aloft and W brands install the new locks.
The system is currently active at 10 W- and Aloft-branded hotels in New York, Los Angeles, Beijing, Hong Kong and Doha in Qatar.
Using Bluetooth, the app-based system can automatically check you in, tell you your room number and be used to unlock the door without collecting a conventional key card from reception.
Bypassing the check-in desk entirely, guests simply register their phone in advance and opt in to the system through a push notification. A second alert will let you know when you've been automatically checked in on your arrival date, then the app tells you your room number and is ready to unlock the door with a tap.
The system works with iOS devices from the iPhone 4s upwards running iOS 8, as well as Android handsets running version 4.3 or later.
It is hoped the system will appeal to guests who arrive at peak times and don't want to queue at the check-in desk, or for business travellers who simply need to get access to their room and don't want to ask about the hotel's services, entertainment and pool opening times.
The system is currently active at 10 W- and Aloft-branded hotels in New York, Los Angeles, Beijing, Hong Kong and Doha in Qatar.
Smart room Key security concerns
Although Starwood claims the service, called Starwood Preferred Guest, uses its own encryption system to stay secure, some experts have voiced their concern. Professor Alan Woodward from the University of Surrey's computing department told the BBC: "Nothing is 100% secure, and once this technology is in widespread use it will make a very tasty target for hackers."
Woodward added: "It may be more secure than a standard hotel swipe card lock but use of strong security features such as AES encryption and 'rotating keys' does not mean someone won't find an alternate way in. They will need to watch, learn and adapt if they are to keep their guests secure."
While several hotel brands offer check-in services through smartphone apps, the only other chain to publicly state its plans for smart room unlocking is Hilton, which plans to launch a system in some US hotels in 2015. The company hopes to have upgraded some 600,000 rooms across its Hilton, Waldorf Astoria, Conrad and Canopy brands by the end of next year.