Smog air pollution in London set to clear as Saharan 'blood rain' due to fall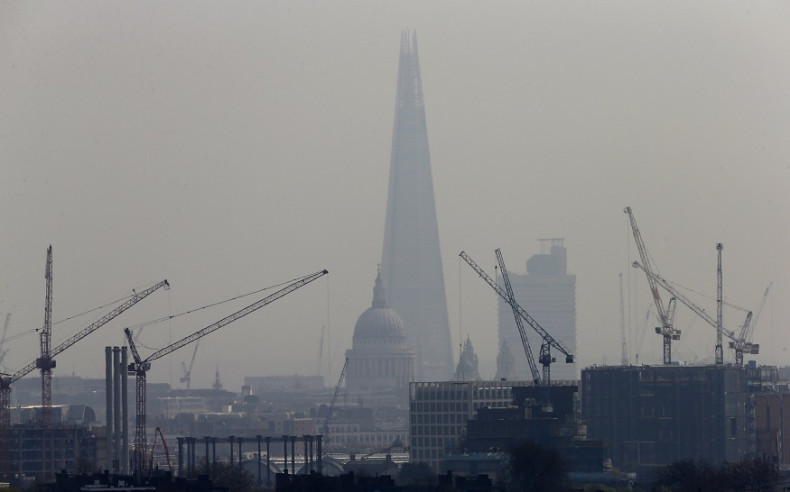 Thick air pollution persisted in London on Friday, but is set to clear this weekend as rainfall and winds from the Atlantic combine to disperse it.
A key cause of the pollution has been winds blowing dust over from the Sahara Desert into the upper atmosphere during the past week.
This weekend "blood rain" could fall in some areas of the UK, staining vehicles and pavements a rusty brown, as rain removes the dust from the atmosphere.
UK Met Office forecaster Dan Williams said: "People could find yellow or brown dust from the Sahara on their cars on Saturday morning."
The dust pollution has been exacerbated by traffic fumes and warm spring weather.
Friday was the hottest day of the year so far, with UK temperatures reaching 22C. Health warnings for the most vulnerable have been issued in several part of the UK, ranging from Yorkshire to the south-east.
Vulnerable weather warning
The UK Met office forecasts moderate levels of pollution today, but continues to advise that adults and children with lung problems, and adults with heart problems who experience symptoms, should consider reducing strenuous physical activity, particularly outdoors.
Last week the London Ambulance Service reported a 14% increase in emergency calls for patients experiencing breathing problems. Scientists have advised children and the elderly to remain indoors during high pollution.
The pollution has been causing particular problems for asthma sufferers.
"There are 5.4 million people in the UK with asthma," says Colette Harris, Head of Health Advice at Asthma UK. "Two-thirds of them tell us that air pollution makes their symptoms worse and often significantly worse. We have had lots of people calling our helpline, saying that they are really struggling and they are needing their reliever inhalers more than usual."
The start of the pollen season is another factor affecting air quality, impacting hay fever sufferers and others with respiratory conditions.
Different types of pollen are released into the air throughout the seasons. At present tree pollen is set to be released until the middle of May. Today's pollen count is moderate in the south of Britain, and low in the north, but it is set to rise towards mid-week.