Beating temperatures in Spain, Turkey and Portugal, the UK is set to witness the hottest day of the year on 10 April, as temperatures are expected to rise above 20 degrees Celsius.
Prolonged sunny spells and warm weather are predicted to continue between 9-10 April before cooler weather kicks in on the weekend.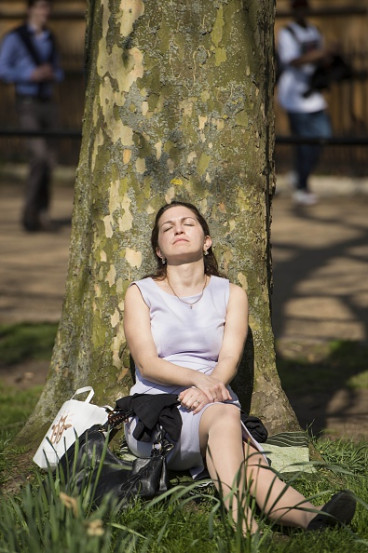 Easter Sunday, 5 April, was so far the hottest day of the year, with the Met Office registering a temperature of 20.7 degrees in Aberdeenshire.
"We could top that by Friday (10 April)," said Met Office spokesperson Nicola Maxey who said high temperatures are expected in the south of England.
Cooler temperatures are expected to kick in by 11 April.
As Atlantic winds sweep in on the evening of 10 April, high pressure is expected to be pushed away from UK eastwards, bringing in isolated showers overnight.
"The high pressure is moving away from the country to the east, which means the start of next week will be unsettled and changeable, with an increased risk of showers," said Maxey.
Highs of 10 or 11 degrees are expected in the north and up to 12 or 14 degrees in the south between 11-12 April as temperatures fall by five or six degrees across the UK.
Early next week is expected to witness more unsettled weather with winds of up to 25 or 30 mph.
Soaring air pollution and dust storm
Meanwhile, several areas across south east and eastern England will witness high levels of air pollution and a Saharan dust storm is also predicted on what is expected to be the warmest day of the year so far on 10 April.
"Friday (10 April) is expected to be the warmest day with 69.8F (21C) or 71.6F (22C) possible. Air is coming from the tropics and passing over land to the south of the UK before coming here," said Met Office forecaster Dan Williams.
"There will be a little bit of Saharan dust in the air. Most people will not notice it unless it rains and is washed out of the air. If this happens then people may seen fine particles of dust on their car windscreen for example."
People are being told to avoid strenuous activity in the outdoors and take caution as air pollution settles in.
Dr Penny Woods, chief executive of the British Lung Foundation, said, reported The Telegraph: "This latest high air pollution episode, coming so soon after the last, is troubling, and could again put people living with respiratory conditions at risk of worsening symptoms."