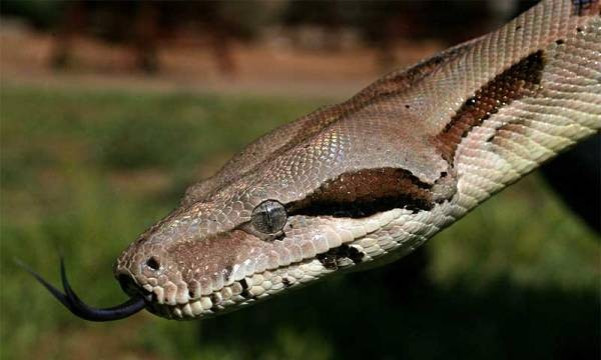 A 5ft boa constrictor was on the loose after escaping from a private home in Liverpool.
The female snake, called Petzy by its owners, went missing from a property on Parbrook Road in Huyton, Merseyside.
Police warned the public not to approach the snake, which they said could become aggressive.
A Merseyside Police spokesman said: "The snake is a four-year-old boa constrictor. It is approximately 5ft long with black and green camouflage markings and yellow underneath.
"Whilst the snake is non-venomous and described as normally very placid, it may become aggressive if it feels threatened and the public are advised not to approach it but to contact Merseyside Police on the non-emergency 101 number."
Local residents in Huyton took to Twitter to voice their alarm. Danielle Cowan wrote: "Not being funny but a baboon on the loose was bad enough. Now a 5ft boa constrictor snake in Huyton!"
Niall Hendry wrote: "5ft long Boa Constrictor missing on Merseyside. Run for your lives."
Boa constrictors kill their prey by asphyxiating them and strangling the life out of them.
Adult boa constrictors should be handled by two people as they are extremely powerful reptiles, said experts.