UPDATE: Snapchat began working again around 12 hours after it first went offline, on the evening on 8 December, GMT.
---
Snapchat is down and not working for many users around the world. Reports of the picture-sharing app being offline began to surface on Twitter at around 7am GMT on 8 December. The company has acknowledged the problem, tweeting: "Some Snapchatters are currently experiencing loading issues. Our team if aware of the problem and working on a fix now."
According to a map produced by DownDetector, the Snapchat outage is being felt most in The Netherlands, as well as Southern England, Northern France and Norway. The outage is also impacting users in Australia and the US west coast. This may well spread to the east coast as cities there begin to wake up and find they can't share photos of their breakfast.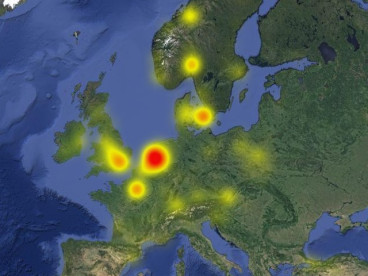 Users have reported a number of issues, including being unable to log in to the app, and failure to send snaps. The error message "Oh no, login temporarily failed" is being seen by many. IBTimes UK was also unable to use the app.
"Snapchat won't load anything," said Kirtsy Atha, who contributed to messages left on the DownDetector website. "Not even the ones I've put on my story," she added. Miles Palma said: "Can't refresh and I logged out so now I can't log back in smh [shaking my head] at you Snapchat."
However, rather than being completely offline, it appears that Snapchat is working sporadically for some users. UK-based Hannah South said: "Mine wouldn't refresh or let me log on but I kept tapping log in and after a minute or so it let me on...with the snaps refreshing I kept tapping to load and after about 15 tries it loaded them. Maybe this will work for you."
IBTimes UK will update this story when the service is restored, or when Snapchat has more to say on the situation.