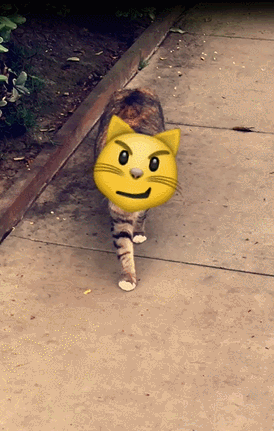 Snapchat has made a move toward augmented reality (AR) with new stickers that follow users around the picture. Emoji stickers on the Android version of the app can now track movements, meaning you can place a sticker over an object and have the emoji follow it around on-screen.
The new feature is rolling out to Snapchat on Android devices from today (14 April) and will arrive on iOS handsets in the coming weeks. The movement-tracking emojis can be accessed through the stickers button – it doesn't work with standard emojis accessed through text box.
The latest update follows a series of updates to hit Snapchat as it tries to position itself as an all-singing, all-dancing communications app in the face of increased competition from the likes of Facebook, WhatsApp and Google Hangouts. The app received a major overhaul in March, which introduced more than 200 new stickers, audio and video calling, gif-like capabilities and the ability to send multiple snaps at one, to name but a few additions.