Snow falls in Sahara desert for third time in 40 years: See the breathtaking images here
The snow cover stayed all day on Sunday and began melting at around 5pm.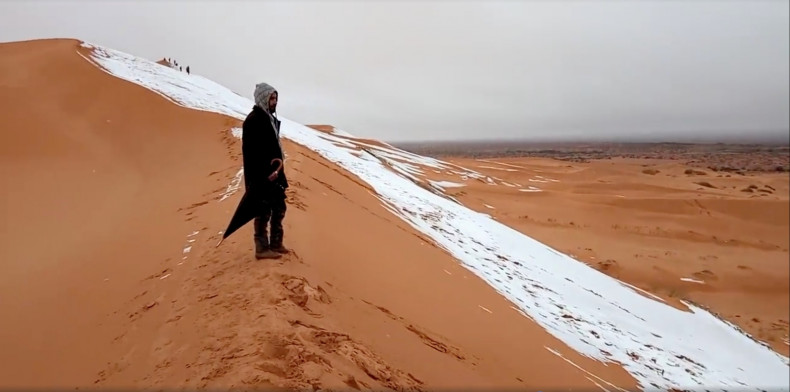 On Sunday (7 January), one of the most unlikely places on our planet witnessed snowfall – the Sahara desert. Sand dunes in the Algerian town of Ain Sefra were blanketed by a 16-inch thick layer of snow when an unexpected winter storm struck the area in the early hours of the day.
The snow cover stayed for a few hours before melting down with rising temperatures. This was only the third snowfall to be recorded in the town, which experiences temperatures around 40°C during summers and is also known as 'The Gateway to the Desert'.
An Earther report describes that the atmospheric rarity came to bear as a blast of cold air linked with a low-pressure weather over the western Mediterranean entered the town, bringing snowfall with it.
The same thing happened last year too but before that snowfall in the region occurred in 1979 and that too only for half an hour.
Photographer Karim Bouchetata, who captured the latest snow cover over sand dunes, told Daily Mail, "We were really surprised when we woke up to see snow again. It stayed all day on Sunday and began melting at around 5pm."
Locals in the region were also stunned by the unexpected turn of atmospheric events. Ain Sefra, which sits about 3,280ft above sea level, has never been a snow magnet. Normally, temperatures in the region stay around 12°C in the month of January. Higher reaches of the town and the Atlas mountains keep receiving snowfall from time to time but this was a total surprise.