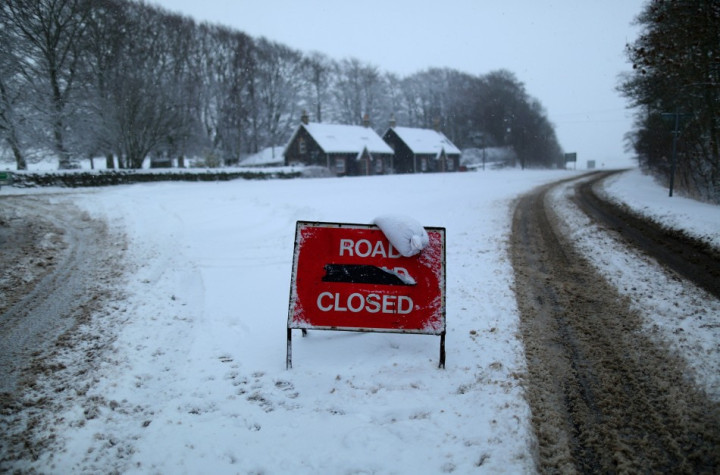 Large areas across the UK are at risk of flooding as heavy rain and as much as 10cm (4in) of snow look set to return.
The Met Office has issued amber warnings for snow - meaning people should be prepared - across most of central and northern England and Scotland. Some areas were told to expect 4-8cm, with a risk of more than 10cm in places.
The Environment Agency has issued a flood warning for southwest England and nearly 30 flood alerts - meaning flooding is possible - across southern and eastern areas of England.
Wales is also expected to see some localised flooding as strong winds are expected to bring a band of heavy rain and snow in some places.
The agency warned that could lead to the possibility of excess water on road surfaces on Friday and flooding from blocked drains and small streams.
Phil Rothwell, Environment Agency flood risk manager, said: "A combination of rain and snowmelt over the weekend will increase the risk of flooding especially in southwest England, Wales, the West Midlands and northern England. We are closely monitoring the situation and have teams ready to respond to any potential flooding."
Anthony Astbury, Met Office deputy chief forecaster, said: "Many northern, central and eastern parts of the UK look set to see the final fall of snow for this cold spell. Then we will see a change to milder and more unsettled conditions as Atlantic weather systems bring spells of wind and rain, but also some drier brighter conditions at times.
"Everyone is advised to keep up to date with the latest forecasts and warnings and plan ahead if they are travelling during this change from icy to mild conditions."
Highways Agency warning
Driver have been warned to take care on the roads following the death of 42-year-old David Cox, who died after crashing his car into the River Wye while taking his 11-year-old daughter to school. The fire brigade said the weather had contributed to the accident.
Steve Crosthwaite, head of the Highways Agency's national traffic operations centre, said: "We have been working hard to keep motorways and major A-roads running throughout winter, and particularly over the last couple of weeks.
"With another flurry of snow expected, we ask people to remain alert and continue to take care when travelling.
"As always, we ask people to give our winter fleet the space they need to do their job and, during periods of particularly severe weather, to consider delaying their journeys until conditions improve."
Other casualties of the recent freezing temperatures include postman John Bircham, 57, who collapsed after freeing his car from the snow in Dulverton, Somerset, and Bernadette Lee, 25, who was found collapsed in the snow without a coat in Deal, Kent, following a night out.