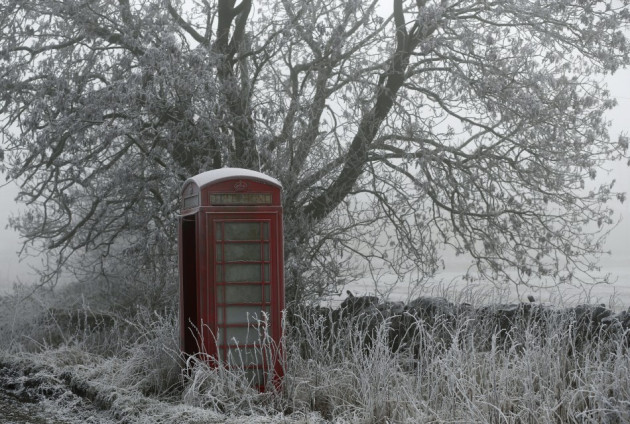 Up to 8cm of snow is predicted to settle over central and eastern England, with light snow already falling over high ground in Scotland.
Temperatures will plummet to minus 6C, with parts of north Wales, north east England and Scotland among the coldest spots.
The Met Office has issued a "yellow" warning of severe weather for Wales, south and west England, north England and east of Scotland as the snow and ice hits the country.
A spokesman for the MeteoGroup said: "The snow is likely to cause disruption with around 2-5cm expected to fall, mainly in central and eastern parts of England but also inland across Scotland."
Forecasters said the icy freeze could bring widespread chaos as the AA warned that 75 percent of drivers were unprepared for the road conditions.
The RAC said it is expecting up to 56,000 breakdowns and widespread disruption on the roads which could hamper millions of motorists.
Call-outs from people whose vehicles broke down or were experiencing engine problems increased by 92 percent during the last cold snap, when more than 10,000 batteries a week needed to be replaced, the RAC said.
People living with lung disease are at risk of their condition worsening in the bitter weather, the British Lung Foundation has warned.
Dr Penny Woods, chief executive of the charity, told the Daily Mirror: "People with respiratory diseases such as COPD or severe asthma can be particularly susceptible to the effects of a sudden cold snap, finding themselves shorter of breath and coughing more than usual.
"The impact can be very serious - cold periods almost always see a rise in the number of people hospitalised with respiratory disease.
"Many of the ways in which people with lung disease can avoid a worsening of their condition are common sense: wearing more layers and warmer clothing, even at night, and keeping the home well-ventilated but warm - around 21 degrees in the living room, around 18 in the bedroom."
The chill factor
The four coldest winters of the last century were, in order of lowest temperatures: 1963, 1947, 1940 and 1979.
The year 1963 has the distinction of being the coldest winter for more than 200 years.
Animals died in their fields because farmers could not reach them through the snow. The coldest temperatures were recorded in Braemar, Scotland, which plunged to -22.2C.