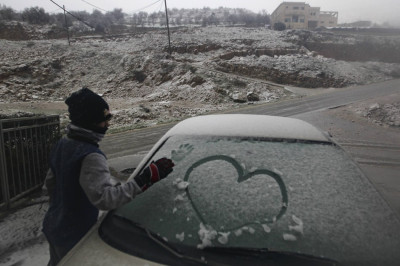 A winter storm has brought death and destruction to large parts of the Middle East in a band from Turkey through Lebanon, Israel, Palestine and Jordan.
Tens of thousands of Syrian refugees living in tent camps have struggled against bitter temperatures and two refugee camps in Lebanon's Bekaa valley were flooded after a river breached its banks.
In Jordan's Zaatari camp, home to about 50,000 Syrians, tents collapsed because of strong winds and heavy rains.
"It's worse than living in Syria," said Fadi Suleiman, a 30-year-old refugee.
Electricity and gas supplies have been lost across Syria.
In a video posted online, a group of men and children are seen burning pages of school books to heat themselves in the city of Rastan.
"We can't use the heaters inside our residences. No fuel, no wood, no electricity," a man says on film.
Palestine
Two women were killed in the West Bank when their taxi was caught in floodwaters and swept away. The taxi driver was taken to hospital in critical condition.
"All of a sudden floods started carrying the vehicle and sweeping it into the [path] of the fast-moving floods over in a valley," Dr Ghassan Hamdan told CNN.
According to Palestinian media, up to 500 people have been injured and 400 houses have bene flooded in the West Bank.
Power has been cut off from hundreds of homes in Gaza, and dozens of people have been evacuated, civil defence spokesman Mohammed al-Haj Yousef said.
Lebanon
In Lebanon four people in the severe weather conditions, the Daily Star reported.
Up to 50cm of snow fell in the Jbeil area, 40km (25 miles) north of the capital Beirut.
Access to many mountain areas has been cut off because of road closures and schools have closed down across the country.
Israel
Heavy snowfalls covered the Golan Heights, Galilee, ,Migdal Oz and Beit El. Forecasters said snow was also expected in Jerusalem.
Jerusalem's Mayor Nir Barkat told residents to avoid non-essential travel and said the city would offer shelter to homeless people.
The Ayalon River near Tel Aviv overflowed in heavy rains and blocked several roads.