Intelligence agencies including the National Security Agency (NSA) and its British equivalent, the Government Communications Headquarters (GCHQ) have, for years, targeted and intercepted communications from mobile phones that are used on commercial flights.
Building on what was already made public in Glenn Greenwald's book 'No Place to Hide', new documents released by The Intercept, based on leaks from Edward Snowden, show how signals intelligence experts can scoop up mobile data from 33,000ft above the earth.
A GCHQ presentation from 2012 describes a programme called Southwinds that is allegedly used to collect the data from in-flight communications across the Europe, the Middle East, and Africa region. The file – classified as 'top secret' – said spies had "complete access" to mobile activity.
"Many airlines are offering on-board mobile phone services, particularly for long haul and business class (list is growing)," the presentation states, adding: "At least British Airways are restricting the service to data and SMS online – no voice."
Southwinds joins previously discussed spy programmes 'Thieving Magpie' and 'Homing Pigeon' – each having their own surveillance abilities. According to the GCHQ presentation, data could be collected in "near real-time" as long as the airplane was cruising above 10,000ft.
The slideshow states that information collected includes calls, texts, webmail, social network updates (examples listed are Facebook and Twitter), Google Maps, VoIP, Skype and BitTorrent. Some of this data, the presentation indicates, would be linked with the NSA's XKeyscore database.
It stated: "We can confirm that targets selectors are on-board specific flights in near real time, enabling surveillance or arrest teams to be put in place in advance." The agency said "specific aircraft" could be tracked approximately every two minutes whilst in flight.
At the time, GCHQ listed over 25 airlines that had – or was planning to – allow passengers to use mobile devices in-flight, including British Airways, Hong Kong Airways and Singapore Airways. In 2016, this list has massively expanded, with WiFi connections likely to soon become commonplace.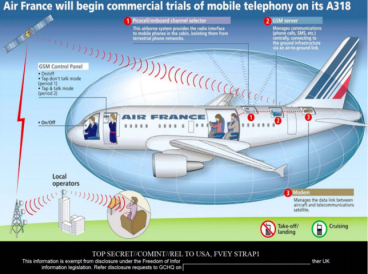 Meanwhile, in a separate NSA document, also released by The Intercept (in collaboration with French publication La Monde) it is revealed the US spies had almost identical capabilities. In one leaked presentation, the agency estimated that 100,000 people had used in-flight devices in 2009.
"What do the president of Pakistan, a cigar smuggler, an arms dealer, a counterterrorism target, and a combatting proliferation target have in common? They all used their everyday GSM phone during a flight," states a top secret 2010 memo from SIDToday, an internal NSA newsletter.
The light-hearted briefing note continued: "The use of in-flight GSM analysis can help identify the travel of a target – not to mention the other mobile devices on board the same plane with them. Sound helpful? All the target has to do is power on his phone..."
It added: "No voice, SMS or data session (communication) has to occur in order for us to detect that a mobile phone is on board an airplane. However, in case you are curious, we have picked up Tweets and Facebook updates from individuals cruising 33,000 feet above the earth."
La Monde, referencing previously unpublished Snowden documents, found that Air France has been of particular interest to the intelligence agencies. A 13-page memo reportedly showed how the NSA had "no problem" with intercepting data from Air France while its flights were overseas as part of a programme designed for "worldwide civilian aircraft tracking."
GCHQ told IBTimes UK it had no further comment. A spokesperson said it is "longstanding policy that we do not comment on intelligence matters" and stressed "all of GCHQ's work is carried out in accordance with a strict legal and policy framework." The statement added: "The UK's interception regime is entirely compatible with the European Convention on Human Rights."