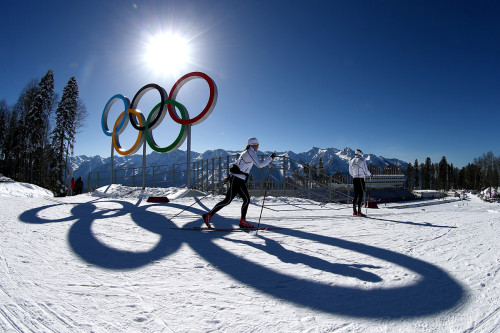 Any Olympic Games is a target for those looking to make a statement. The global platform and wide-spread media coverage are ideal for anyone looking to highlight their cause or perceived injustice.
While this in the past has taken the form of protests and actions on the ground, as the world moves ever-more online these attacks and protests are more likely to happen in cyber-space.
At this year's Winter Olympics, taking place at the southern Russian resort of Sochi, the levels of physical security for all visitors and competitors will be obvious, but the extent of the cyber-security effort may not be visible - but it doesn't mean it isn't there.
"There is no privacy"
According to Jarno Limnell, director of cyber security at Intel Security, the result of the heightened threat of cyber-attack is that at the Sochi Olympics "there is no privacy".
"Everything is monitored. Everyone also knows that everything is monitored and learns to live with this 'state of affairs', adapts to it," Limnell told IBTimes UK.
Last year, Russian prime minister Dimitry Medvedev signed into law a decree which, according to the Committee to Protect Journalists, authorises the government to "collect telephone and internet data of the Games' organisers, athletes, and others, with particular emphasis on journalists. The latter are mentioned twice in the decree."
This seems to have been proven to be true after NBC's chief foreign correspondent Richard Engel reported that two laptops and a smartphone which he used after landing in Russia were "hacked within minutes" of turning them on.
Cyber-criminals or the FSB?
It is unclear whether those snooping around Engel's devices were indeed Russia's Federal Security Bureau (FSB) monitoring who the journalist was communicating with, or cyber-criminals looking to steal valuable data like banking details,
Either way, Limnell believes that the heightened security measures being employed by the Russian authorities are as a result of just how important cyber-security is for the smooth running of these games:
"Cyber security is a vital enabler for the games and therefore it is good that Russia is putting loads of effort into it – alongside other aspects of security. It is in their interest that the games are a success; it is also in the global interest. No room for mistakes."
Muscle flexing
Limnell believes it is vital for Russia to show the world its cyber-capabilities as "there is an arms race going on in the cyber world and, for Russia, the Olympics are a change to prove itself."
This could result in details of cyber-attacks and the measures used against them being revealed publicly (either through 'leaks' or official channels) which will show Russia's cyber-capabilities to the whole world, and in turn deter potential attacks against its infrastructure.
Anonymous threat
While we have yet to hear reports of an actual cyber-attack on the Sochi Olympics, there have already been threats from hacktivist group Anonymous.
An offshoot of the group called Anonymous Caucasus has threatened to launch cyber-attacks against any company which finances or supports the Winter Olympics.
Anonymous will clearly want to take advantage of the global stage the Olympics offers those seeking to highlight a perceived injustice, and Anonymous Caucasus believes that "the Sochi games infrastructure was built on the graves of 1 million innocent Caucasians who were murdered by the Russians in 1864," according to a security bulletin issued by the US Computer Emergency Response Team (CERT).
Stray dogs
The group is already thought to have begun its attacks, with the Russian National Olympic Committee website knocked offline for a short period of time this week. The group has also posted a list of more than 700 Russian websites with the title:
"We warned you Russia. Now you will feel the pain of 700 dogs."
The reference to dogs is in relation to reports that Russian authorities shot dead stray dogs near the Olympic venues earlier this week, but the a related Twitter account claimed the attack was a protest at the deportation of native Circassians during the 19th century.
While we have not seen reports of other cyber-attacks, this doesn't mean they haven't taken place. It could indicate, Limnell says, that Russia's "measures used to silence reporting have been effective."