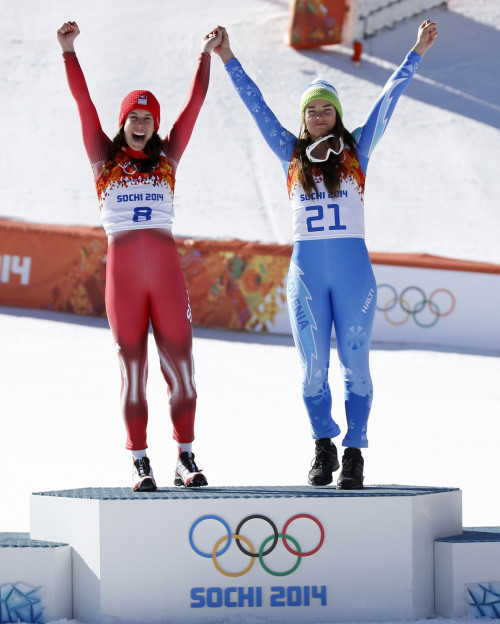 Events:
Curling
Alpine skiing – women's downhill
Ice hockey – women's preliminaries group A, men's preliminaries group C
Nordic combined – individual Gundersen NH/10km, competition round and individual Gundersen NH/10km, cross country
Snowboard – ladies' halfpipe competition
Speed skating – men's 1000m
Luge – doubles run 1 and 2
Figure skating – pairs free skating
Highlights:
Women's downhill
For the first time in Olympic history, an alpine medal has been shared by two competitors as Switzerland's Dominique Gisin and Tina Maze of Slovenia posted identical times in the women's downhill competition.
Britain's Chemmy Alcott was delighted with her top twenty finish after she came 19th to overcome injury ahead of what is likely to be her final swan song as she is tipped for retirement after Saturday's Super G.
Curling
Eve Muirhead decided to go for a tricky, all-or-nothing last shot as she pushed Team GB's final stone towards the house in need of at least two points to keep their game alive.
But it wasn't to be, as opponents Canada took a 9-6 victory leaving the Brits with only one win from three.
"I don't go for shots if I don't think they are there," said Muirhead.
"I definitely thought it was there, we had a good chance in that last end."
Speed skating
American Shani Davis is used to breaking records after he became the first black athlete to win gold in an individual sport at an Olympic Winter Games.
This time he was looking for his third successive Olympic gold medal to make history once more, by becoming the first male speed skater to win the same event at successive games.
In the end Davis was left disappointed after he didn't make the cut, leaving the Netherlands to take their fourth speed skating gold from five in Sochi as Stefan Groothuis took gold.