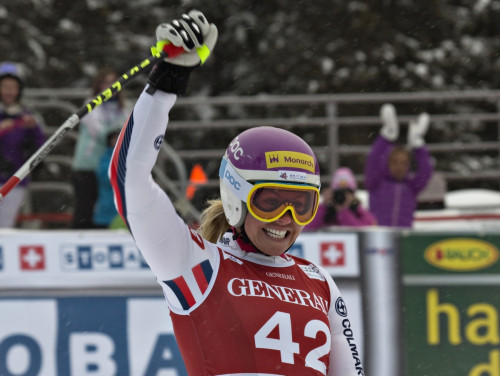 Where to Watch Live:
Live coverage of Day 5 of the Sochi Winter Olympics 2014 starts at 05:00 GMT on BBC2, red button, radio and BBC Online.
Events:
Curling (from 05:00)
Alpine skiing – women's downhill (07:00)
Ice hockey – women's preliminaries group A, men's preliminaries group C (from 08:00)
Nordic combined – individual Gundersen NH/10km, competition round (09:30), individual Gundersen NH/10km, cross country (12:30)
Snowboard – ladies' halfpipe competition (from 10:00)
Speed skating – men's 1000m (14:00)
Luge – doubles run 1 and 2 (from 14:15)
Figure skating – pairs free skating (15:45)
Brits to Watch
Chemmy Alcott (alpine skiing)
GB teams (curling)
Jack Whelbourne (speed skating)
Curling
Both the men and women's rinks have had a successful day's curling in day four with wins over the USA and Germany and go on to face Switzerland and Canada respectively.
Alpine Skiing
Britain's only female alpine skier Chemmy Alcott pulled out of the slalom section of the super combined to save herself for the day 5 downhill.
While the 31-year-old isn't tipped for a medal, having overcoming numerous and horrific injuries, the reward for finishing in one piece in her fourth successive winter games will surely be a victory in itself.
Monday's super combined gold medallist Maria Hofl-Riesch of Germany is the likely favourite for the downhill title but in the absence of injury-stricken American reigning Olympic champion Lindsay Vonn, the field has opened up and it's anyone's for the taking.
Others to look out for are Austrian and Vancouver 2010 bronze medlaist Elisabeth Gorgl and Switzerland's Marianne Kaufmann-Abderhalden.
Ice Hockey
There are four matches to be played on day 5: -
Women's prelim. Round group A:
Switzerland v Finland
Canada v USA
Men's prelim. round group C
Czech Republic v Sweden
Latvia v Switzerland
Nordic combined
The Nordic combined events include a ski jump and a 10km cross-country ski race.
Day 5 sees the individual (Gundersen) race which in this case combines a normal hill ski jump followed by a 10km cross-country race where the jumpers with the most points go first.
The next athlete will follow the first after a gap which relects the difference in their jumping scores, measured according to the Gundersen method.
The winner is first cross-country skier to cross the finish line.
Currently Germany's Eric Frenzel is the world leader in this sport with Akito Watabe of Japan ranked second and Haavard Klemetsen of Norway in third.
Snowboarding
The men had problems with the conditions under board and struggled to stay on their feet during day four's halfpipe competition as warm temperatures turned ice into slippery slush. Now it's the turn of the women to conquer the pipe.
Look out for American duo Kelly Clark and 17-year-old Arielle Gold and of course the shiny white smile of Australian Torah Bright who competes in her second snowboard event with the snow cross still to go.
Speed skating
All being well, Jack Whelbourne could make a speedy return from a twisted ankle he picked up in the 1500m on day 3 to compete in the 1000m speed skating.
Whelbourne was Junior World Champion in 2011 and has since won gold in 2011 and silver in 2012 at the European Championships.
Figure skating
The pairs competition concludes on day 5 with a free skate which will include Tatiana Volosozha and Maxim Trankov of Russia who won gold last year.
Their closest rivals will be Germany's Aliona Savchenko and Robin Szolkwoy.