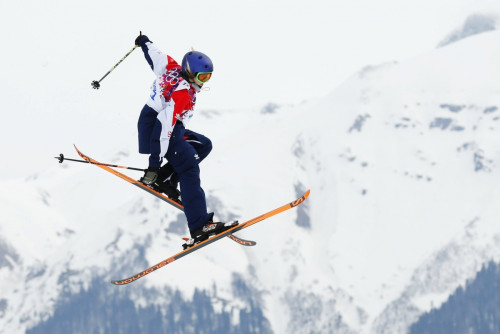 Katie Summerhayes missed out on a Winter Olympic medal after finishing seventh in the ski slopestyle finals in Sochi.
The 18-year-old finished third in qualifiers on Tuesday morning with an impressive score of 84.00 but suffered a disastrous fall in her first run before finishing her second with 70.60 at the Rosa Khutor Extreme Park.
Despite her improved efforts it was not enough to break into the top three as Canada's Dara Howell scooped gold with a score of 94.20, followed by American Devin Logan (85.40) with another Canadian Kim Lamarre finishing third with 85.00.
Summerhayes, whose World Cup medal last year and impressive qualifier had many tipping her for a surprise medal success, fell after attempting a switch 1260 on her first run which left her with a score of 19:40, good enough for 10th spot in the first runs.
The fall proved to be costly as her improved second run was not enough to earn a podium spot dominated by north Americans .
After a third highest score in qualifiers, Summerhayes vowed to continue to attempt higher scoring but more difficult routines in the finals and her teammate Aimee Fuller believes the teenager kept to her word.
"She did a super technical routine there and basically decided to 'go big or go home'." GB Olympic team-mate Fuller told BBC Sport.
"There was a hand down on the landing and the score did seem a little harsh, but it shows just how clean you have to be.
"She has age on her side and is stoked to be here. She made history but being in the final and I'm so proud of her. This is just the first you're seeing of Katie Summerhayes, she's going to be a star in the future."
Summerhayes was aiming to become the second Brit to secure a medal in Sochi following Jenny Jones' bonze triumph in her slopestyle event on Sunday.