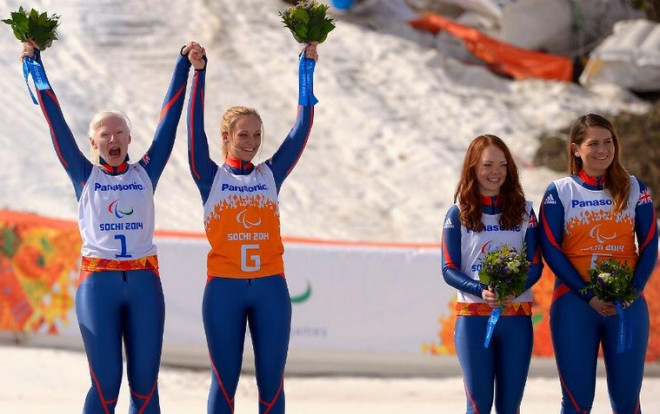 Kelly Gallagher has won Great Britain's first ever Paralympic gold medal at the 2014 Games in Sochi with victory in the visually impaired super-G event.
The 28-year-old from County Down, Northern Ireland, and her guide Charlotte Evans were the first down the course at Rosa Khutor and crossed the line with a time of one minute and 28.72 seconds which was fast enough to secure first place.
There was double success for Team GB as Jade Etherington, who became the first Brit to win a medal when she secured silver in the downhill event on Saturday, won bronze, recovering from an uncertain start to finish with a time of 1:29.76 with Russian's Aleksandra Frantceva beating her time to take silver with 1:28.94.
Gallagher and Evans finished in last place in Saturday's downhill event but made a stunning amends with Monday morning's triumph.
"Normally when we compete, even in big events like World Championships, there is nobody interested in what we are doing," Gallgher told BBC Sport.
"But here there has been a lot of hype and pressure, as well as expectation, and maybe we let some of that in.
"Today we just decided to ski and see what happens," Evans added. "I have to thank Charlotte for getting me to the line. We just threw ourselves at it. I prayed for the strength to ski and have fun."
"I was yelling a lot and she wasn't doing what I told her, but finally it paid off. It didn't feel as good as we wanted to on the course, but who cares.
"We won a gold medal and it feels amazing."