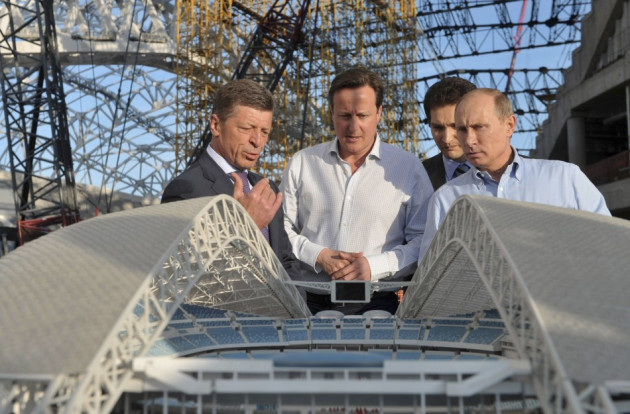 The Sochi 2014 Winter Games are set to become the world's most expensive and corrupt Olympics, former deputy prime minister Boris Nemtsov has warned.
Sochi, a balmy sub-tropical resort lined with palm trees, has been turned into a ski and ice-skating centre as part of its transformation into a winter wonderland.
Nemtsov told a news conference that in 2007 the cost for preparing the resort was estimated at $12bn (£7.8bn). That has gone up to $51bn. The London 2012 games cost $14.3bn.
According to a report co-authored by Nemtsov, construction costs for the Games generally doubles from initial estimates to the final amount but Sochi has broken all records with a quadruple increase.
"The main conclusion from the first chapter of our report is that in preparing for the Olympic Games, between $25bn and $30bn have been stolen," Nemtsov claimed.
"It's obvious that Putin's friends are running the preparations for the Games."
The former deputy prime minister called for a civic committee to study the figures and asked for full disclosure of the accounts.
Leonid Martynyuk, co-author of the report, wrote on his blog: "Only oligarchs and companies close to Putin got rich. The absence of fair competition, cronyism have led to a sharp increase in the costs and to the poor quality of the work to prepare for the Games."
Putin personally lobbied the International Olympic Committee for the Games six years ago. To create the infrastructure in one of Russia's least developed areas, almost everything was built from scratch in Sochi over the last six years.
Thirteen major facilities are being built, including a stadium to accommodate 40,000 people and venues for ice hockey, skiing, snowboarding and skating.
There will be a Formula One racetrack and the stadium will be one of the venues for the football World Cup in 2018.
Many of Putin's friends are involved in the Sochi games including metals magnate Vladimir Potanin, a skiing partner of Putin.
The president's former judo partner, construction billionaire Arkady Rotenberg, is also involved in the building of the resort.
According to the Times, Alexander Zhukov, president of the Russian Olympic Committee, said he would look into Nemtsov's report. Zhukov added that the country's Audit Chamber was keeping an eye on Olympic costs.
Russian deputy prime minister Dmitry Kozak, who is responsible for the Games, dismissed the criticism and pledged that games would be a success.
"In spite of envious people, the Russian Winter Olympic Games will be held in the southern capital - subtropical Sochi," he told Reuters.