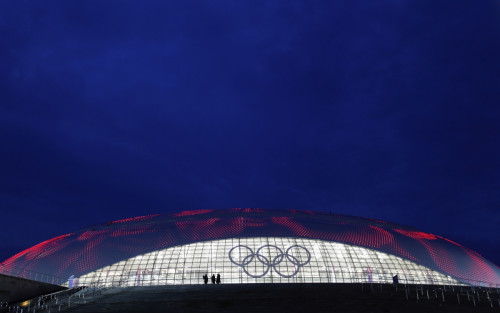 A Russian environmental activist has been sentenced to five days in jail ahead of Sochi Olympics for resisting police, the second to be put behind bars in a week as part of authorities' continued crackdown against opposition.
Igor Kharchenko was charged with resisting police orders after being picked up on the street in the regional capital of Krasnodar. He also found his car smashed, according to his associate Olga Soldatova.
After being brought to court behind closed doors, Kharchenko was given a blank sheet of paper instead of a protocol sanctioning his detention, Soldatova said.
"They were leading Kharchenko out, and he told us he got 5 days, without a proper trial, lawyer or witnesses," said Soldatova, who was at the courthouse.
Kharchenko is a member of the Environmental Watch of the North Caucasus, a watchdog on the environmental effects of Olympic construction.
Earlier this week, Yevgeny Vitishko - another member of the group serving a suspended sentence for spray-painting the fence of the property of the local governor allegedly acquired through corrupt means - was jailed for swearing in public. He was detained on the doorstep of a prison office on Monday after he applied for permission to travel to Sochi.
In a trial that lasted 10 minutes, the activist was found guilty of swearing in public, an offence punishable by a fine of up to 15 days in jail.
Human rights group have highlighted the harassment campaign against the local activists.
"Vitishko's imprisonment on trumped-up charges, and his colleagues' arbitrary detentions and vicious harassment, are more damaging to Russia's 'Olympic host' reputation than any criticism they could have voiced," Human Rights Watch's Russian coordinator, Tanya Lokshina, said in a statement Tuesday.
The latest jail sentence came after a "sexy snow bunny" protest by two supporters of Peta (People for the Ethical Treatment of Animals) was broken up by Russian authorities in the Sochi Olympic Village.
The animal rights activists, wearing skimpy bikinis and bunny ears, were holding placards that read "Champions don't wear fur" before authorities stopped them and confiscated their signs and passports.