Venezuela's cancer-stricken President Hugo Chavez has returned to Caracas to the joy of his socialist supporters.
President Chavez, who began his latest course of cancer treatment in Havana two months ago, used Twitter to thank Fidel Castro for the care he received in Cuba.
Jubilant messages from the charismatic leader signalled the end of a lengthy absence from the South American country, which fuelled rumours he was dead.
Chavez wrote on the social networking site: "We have arrived back in the land of Venezuela. Thank you Lord!! Thanks to my beloved people!! We will continue our treatment here.
"Onwards to victory!! We will live and we will overcome!!!"
Responding to the news, one supporter said the President's return meant the revolution was "alive."
Earlier, photos were released of Chavez smiling with female family members and reading a newspaper to dispel rumours of his demise.
Local media reported Chavez landed in Caracas at 6.30am GMT.
It was not reported how serious the controversial president's illness is, after lengthy treatment. Tumours were reportedly removed from his pelvis region, in addition to radiation treatment.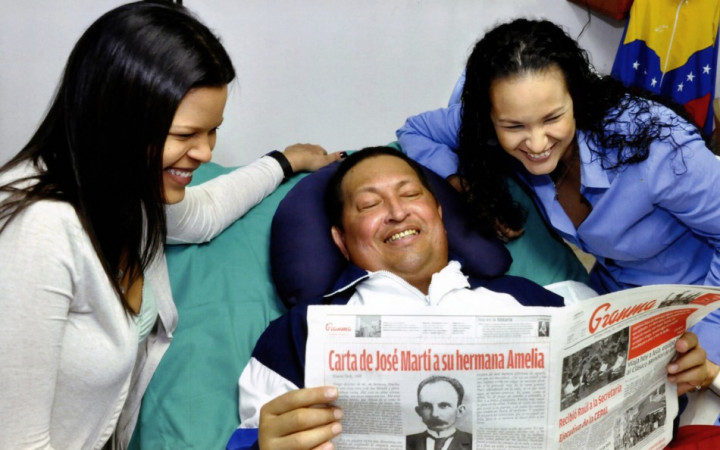 Vice-President Nicolas Maduro, who deputised for Chavez during his absence from Venezuela, described him as "extremely complex and tough."
Chavez was forced to miss his own inauguration ceremony on January 10, due to the illness. A Supreme Court ruling means another swearing in ceremony can take place, when Chavez is fit enough.
Chavez has ruled in Venezuela since 1999. An anti-United States populist, he has poured oil revenues into schemes for the urban poor.
He also made regular appearances on television screens in people's homes to deliver lengthy sermons, lasting up to seven hours. When it was reported viewers were switching off, producers began invading the schedule unannounced, in a tactic dubbed "suddenly Chavez."
Ecuadorian president Rafael Correa, an acolyte of Chavez in his opposition to US influence in Latin America, dedicated his victory in yesterday's election to his Venezuelan counterpart.
Addressing crowds in Quito, Correa said: "I take the opportunity to dedicate this victory to a great Latin American leader who changed Venezuela, Commander Hugo Chavez," Correa said. "I admire him a lot."