Young Somali refugees have sent solidarity letters to Syrian refugee children who have fled their homeland due to a three-year long civil war.
Aid agency Care International has organised the pen pal exchange among Dadaab refugee camp in Kenya and Syrian children at the Refugee Assistance Centre in Amman, Jordan.
"Two thousand miles separate the children living in Dadaab camp, Kenya, from the Syrian refugee children living in Jordan," a statement on the charity's website said. "Yet despite the vast distance, they share many things in common: none of them know when, if ever, they'll return home; and each one has had their lives disrupted and face an uncertain future as a result of conflict.
"They are united by one thing: their refugee status."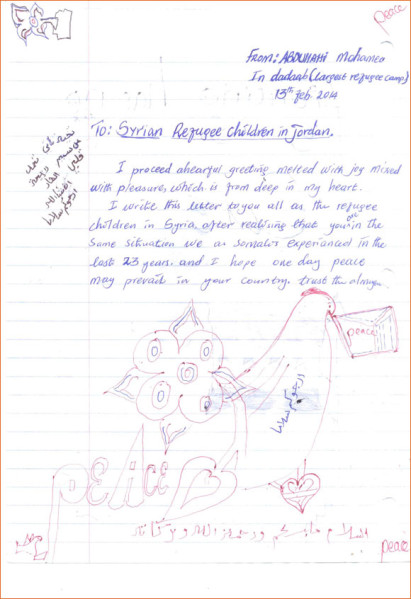 The young Somali students offered messages of solidarity, encouragement and advice to the Syrian children, urging them to pursue an education while in the camps.
"When I finish my study I want to rebuild my country.
I am sure 100% that if you practice learning and studying you will excel at the end.
Last but not least, I tell you not to lose hope because you have been refugees for only three years. What do you think of people who are refugees for about two decades?"
Hibo Mahamed Dubow
"Our beloved brothers and sisters go and work hard in school be the stars and the new presidents of Syria."
Dahir Mohamed
"We are praying for you God gives you better life and with the help of God as soon as possible you will get peace in your country because we are feeling the same way you are feeling.
"Try to start a new life which is much better than before. I wish peace for Syria.
"Always peace is the best."
Abshir Hussein
"My brothers and sister I know that in your country there is war but no matter [what], work hard in your life.
"Don't be hopeless, we are with you, and if there is war in your country, tolerance is necessary."
Zahra Dahir Ali
"Be patient;
Work hard in school;
Be punctual;
Respect your teachers;
Feel happy about education;
Help each other,"
Zakariye Mohamed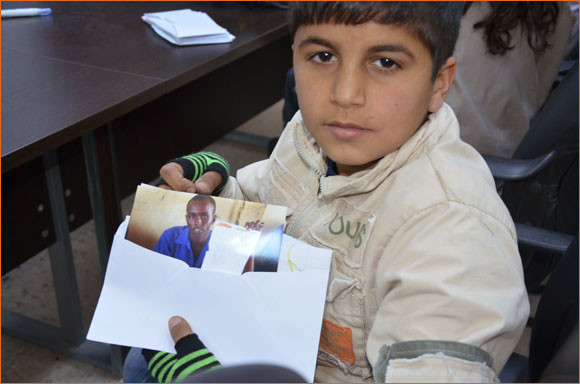 The Syrian child refugees welcomed the letters, said Care International, and they are now writing responses to the Somali refugees in Kenya.
To find out more see Letters of hope from Dadaab refugee camp and Syria crisis: Uplifting letters of hope.