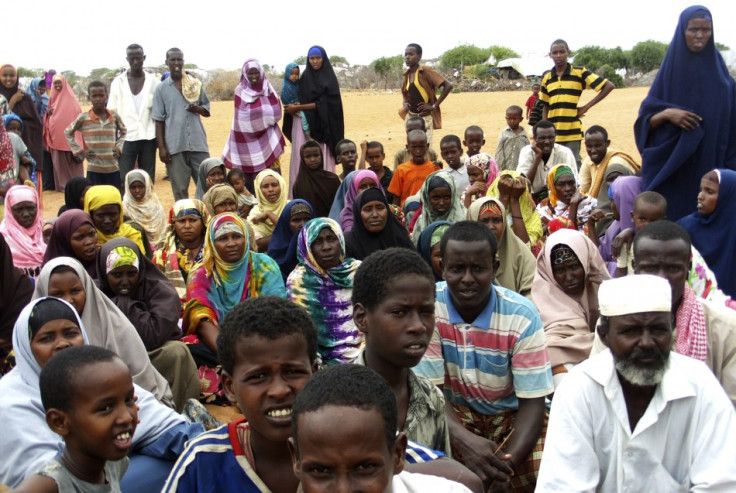 Somalia is close to famine, causing over a 1,000 people a day to travel over the border into Kenya and Ethiopia, according to the United Nations.
An estimated 2.8 million people in Somalia are now in need of emergency aid and in the worst-hit areas; one in three children is suffering from malnutrition.
However in early March, a United Nations human rights expert called on the international community to step up efforts to address the impact of the devastating drought in Somalia, and warned that the country is on the brink of a humanitarian disaster if action is not taken immediately.
"The drought situation in the country and the slow international response is extremely serious and may lead to a natural and human disaster," said Mr Shamsul Bari, an Independent Expert on the situation of human rights in Somalia.
"I strongly urge the international community, including the UN, to take immediate and concerted measures to address the dire humanitarian crisis that affects all human rights of the vulnerable Somali population, including women, children and the elderly as well as the internally displaced people (IDP) and minorities," he said at the time.
The drought is exacerbating an already dire humanitarian situation in Somalia, where civilians have been caught up in the fighting pitting forces of the country's transitional government, who are backed by African Union peacekeepers, against insurgents of the Al-Shabaab armed group and other militants.
The number of internally displaced persons (IDPs) is rapidly increasing as people are now forced to flee either because of the conflict or the drought.
Subsequently, civilians living in the most drought stricken parts of the country are now trying to find help in urban areas, and many chose Mogadishu as their new destination, a city where the on-going fighting presents increased risk for the civilian population.
In April, UN humanitarian chief Valerie Amos warned that severe drought in Somalia had led to more people becoming internally displaced and others moving into refugee camps across the border in Kenya, as food and water scarcity worsened.
"People are moving due to the deteriorating living conditions and a lack of a way to make a living. Families are said to be selling their assets, including houses and land, to get by and to facilitate their movement to the refugee camps in Kenya," she told reporters following a visit to the country.
Despite various call for help it seems that once again the international community has waited until the last minute to respond. While an operation to protect civilians is underway in Libya, the U.N. seemingly lost focus on taking a stronger stance against Al-Shabaab, the Islamist militant grouping fighting to overthrow the Somalian government and which imposed a food and aid ban in its controlled areas.
In 2010 the U.N World Food Program was forced to pull out of southern Somalia because of threats against its staff and demands by al Shabaab of payments for security. While it is normal and reassuring that the organisation focuses on the security of its workers, by simply pulling out, the U.N. appears to have done little to ensure that its food work there could be re-started
Thousands of Somali refugees are now making dangerous journeys of hundreds of kilometres to seek assistance: 54,000 people crossed into Ethiopia and Kenya in June alone. Levels of serious malnutrition among newly-arrived Somali children in Ethiopia are exceeding 50 per cent, while in Kenya levels are reaching 30 to 40 per cent.
As the situation has now reached a catastrophic stage, Al-Shabaab announced it will now lift the aid and food ban.
"We have now decided to welcome all Muslim and non-Muslim aid agencies to assist the drought-stricken Somalis in our areas," said Sheikh Ali Mohamud Rage, a spokesman for al-Shabaab.
"All aid agencies whose objective is only humanitarian relief are free to operate in our area," Rage said, adding they should first contact al Shabaab's drought committee.
The United States - which regards al Shabaab as a terrorist group - has already delivered some 19,000 metric tons of food to the U.N. World Food Program, much of it already sitting in regional warehouses to be ready for rapid delivery, State Department spokesperson Victoria Nuland said.
Also, the senior U.N. humanitarian official for Somalia welcomed the news of the lifting of the food aid ban.
"I am happy to cooperate with anybody who can work to alleviate the current crisis to save hundreds of Somali lives," said Mark Bowden, U.N. humanitarian coordinator for Somalia, who is based in the Kenyan capital, Nairobi.
It seems odd that the International Community, despite being aware of the imminent food and water shortages, had to wait patiently for permission to distribute aid from an armed militant group, but such a situation perhaps sums up well many of the problems of the region.