Somalia: MPs among 15 dead in hotel blast and gun raid claimed by al-Shabaab
Somalian MP's are among at least 15 dead after al-Shabaab gunman stormed a hotel in the centre of the capital Mogadishu. The death toll is expected to rise as 50 people have been injured by the attack which began with a suicide car bomb.
The assailants struck on the evening of Wednesday 1 June after entering the Ambassador Hotel on Maka al-Mukarama Street. Eye witnesses said the assailants had had set off a car bomb at the gates outside the building.
Sonna, Somalia's state news agency, estimated that at least 50 people were hurt and four MP's who were staying at the hotel were rescued from the building. Al-Qaeda-affiliated al-Shabaab quickly claimed responsibility for the attacks – claiming to have killed 20 people.
"Lawmakers Mohamud Mohamed and Abdullahi Jamac died in the hotel. They lived in it," Major Ibrahim Hassan, a police officer, told Reuters news agency. "Many other people including lawmakers were rescued. The operation is about to end now. So far the death toll we have is 15 dead and 20 others wounded."
Al-Shabaab, which means "The Youth", launched its own insurgency on major Somali cities and was controlling the capital and swathes of southern Somalia until it was pushed out by domestic and international forces around 2012. They aim to overthrow the Western-backed Somali government and impose its own version of fundamentalist Islam in the country and many rural areas are still controlled by the terrorists.
"We targeted the members of the apostate government ... We killed many of them inside and we shall give details later. Our mujahideen are on the top floor of the hotel building," Sheikh Abdiasis Abu Musab, al Shabaab's military operation spokesman said.
These types of attacks have become commonplace in Somalia with a number of deadly attacks this year. These have included an attack on a restaurant in Mogadishu in January which killed more than 20 and an attack on a Somali Youth League hotel which claimed the lives of nine.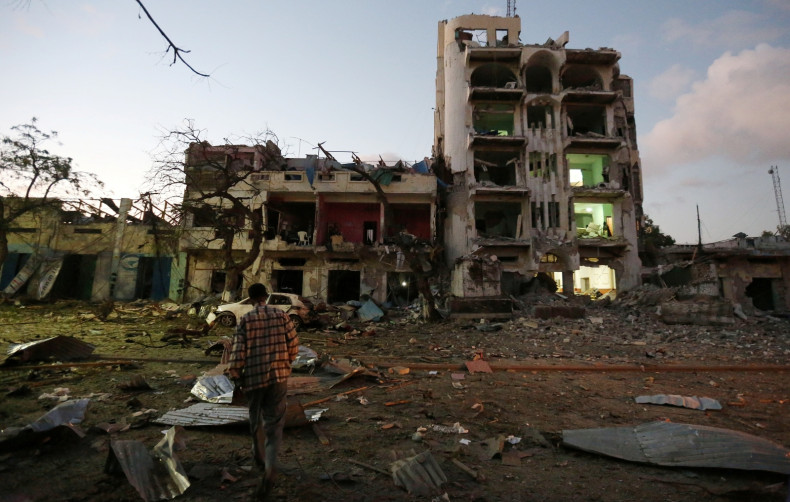 Dr Abdulkadir Andirahman Haji Aden, who is battling the increased numbers of injuries at a local hospital, told the BBC: "I was the first person to reach the scene. The damage was enormous. My brother and his son were among those injured. We are now in Medina hospital and it is overcrowded with wounded people. I have never seen something like this."
African Union forces and the Somali state have been fighting al-Shabaab to regain control of the war-torn country. Also on Wednesday the government announced it had killed Mohamed Kuno, the al-Shabab militant who led the attack on Garissa University in Kenya in April 2015 that killed 148 people.
According to reports Kuno was one of 16 insurgents killed in a raid on Kismayo, a port city in southern Somalia.