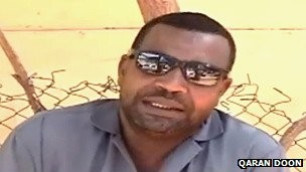 Somalia's most famous comedian, who used to impersonate Islamist fighters as part of his routine, has been shot dead in the capital Mogadishu.
Abdi Malaq Jeylani, aka Marshale, was recently threatened by Islamist militant group al-Shabaab. However, no group has yet claimed responsibility for the deadly attack.
He was shot several times in the head and chest by two armed men after leaving a local radio station. He used to work for a London-based Somali satellite station called Universal TV.
"Two men shot and seriously injured Marshale. The comedian was later pronounced dead," police lieutenant Mohamed Gaal told Lebanese newspaper The Daily Star, adding that "unfortunately the assailants escaped."
After the death threats, Marshale went to neighbouring Somaliland for several days before returning home.
"This is a black day for the entire entertainment industry, he was a leader in Somalian comedy and everybody liked his performance," Yusuf Keynan, a presenter at Kulmiye Radio, where Marshale worked, told the BBC.
Al-Shabaab, which became formally affiliated with al-Qaeda in April, won control of much of southern Somalia in 2008. However it was subsequently forced to relinquish control in several areas, culminating in a withdrawal from Mogadishu in August 2011.
Somali troops, backed by peacekeeping troops from the African Union Mission in Somalia (AMISOM), continue to oppose Al-Shabaab across Somalia.
New constitution
The killing of Marshale came as Somali leaders voted by a significant majority to pass a new constitution that includes some advancements in individual rights.
The Islamic law, or Sharia, is the basis for Somalia's legal foundation, and Islam is the only religion that can be propagated in the country.
However, the new constitution allows a woman to have an abortion in life-threatening cases, and bans female genital mutilation, still a common practice in the country.
The Transitional Federal Government (TFG), which has established in November 2004, is supposed to relinquish its mandate on August 20, after eight years of clashes and minimal political progress. The new constitution is seen as a key step to normalise the political situation in the country.
Under a plan backed by the UN, a new parliament will be selected by the leaders, or elders, of Somalia's various tribes once the TFG is disbanded. This parliament will then elect a new president.