Sony to Follow Tablet S with 9.4in Display Quad-Core Xperia Tab
The Sony Xperia Tablet will be powered by an Nvidia Tegra 3 quad-core processor and run on Android 4.0 (Ice Cream Sandwich).
Sony unveiled the Tablet S and Tablet P - earlier known as S1 and S2 respectively - at last year's IFA event. The Tablet S was launched as the larger of the two products, with a bigger display and more storage options. It now appears, according to information from German Web site MobiFlip, the Japanese giant is planning a successor the S and a device has already made it way to the Federal Communications Commission (USA).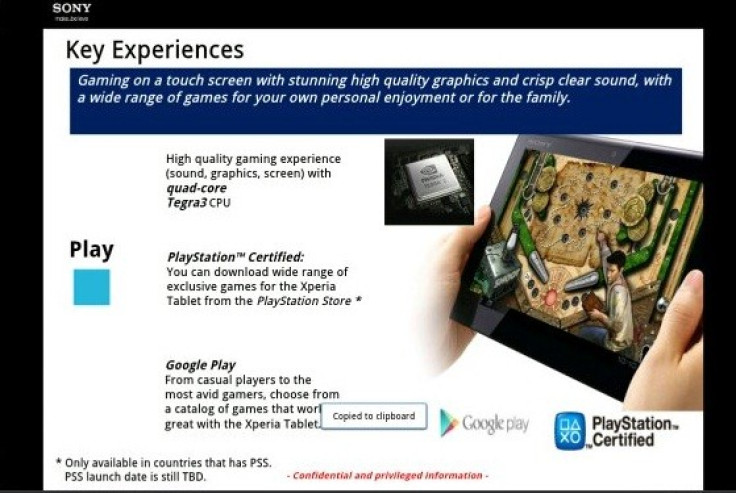 The information on the Web sites suggests the new device will be code-named Xperia Tablet and is expected to carry some features similar to the Tablet S. For example, the new tablet is expected to feature a display measuring 9.4in and a resolution of 800 x 1280 pixels. The device will run on Android 4.0 Ice Cream Sandwich (ICS) and offer more space than the S - at 16/32/64GB.
The new tablet is also expected to offer Bluetooth v3.0, support for 3G, a SD card slot and stereo speakers, as well as a high resolution rear-facing camera (eight megapixels) and a secondary front-facing camera of a single megapixel. The device should have a sizeable battery - 6000mAh - which is expected to last for 10 hours of Internet surfing.
The processing capacities could be where the Tablet S and the Xperia Tablet part ways. The newer rumoured product is expected to pack an Nvidia Tegra 3 quad-core processor, whereas the Tablet S has only a dual-core Tegra 2 T20 chip. Hardware aside, a report by the Verge suggests the forthcoming Xperia Tablet will be 42 percent thinner than the S and feature and 8.8mm splash resistant aluminum cover.
Pricing
The Xperia Tablet is expected in three storage variants. The 16GB should cost $449.99 (approximately £300), the 32GB $549.99 (approximately £350) and the 64GB $649.99 (approximately £415).
The German Web site's report also throws light on some accessories the Xperia is expected to provide. This includes a keyboard-free carrying cover priced at $59.99 (approximately £39) and a premium cover at $79.99 (approximately £51); a cradle costing $39.99 (approximately £26); a docking stand for $99.99 (approximately £64); a simple stand priced at $24.99 (approximately £16) and a dock speaker of $119.99 (approximately £77).
The report, unfortunately, makes no mention of date but another by the Xperia Blog suggests a September release.
© Copyright IBTimes 2023. All rights reserved.