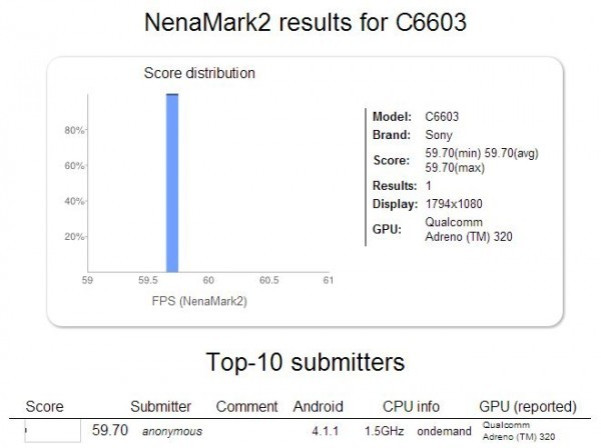 Sony seems to be gearing up to introduce a new Xperia smartphone, the Yuga, with model number C6603.
Blue Ringer Men reports that Yuga has appeared in a NenaMark2 benchmark, according to which the device is said to sport a 1080p display.
According to the benchmark, the device is expected to be powered by a Snapdragon S4 APQ8064 quadcore, clocked at 1.5GHz processor. It could ship an Adreno 320 graphics processing unit.
The device is said to sport an LCD full HD display packed with a resolution of 1920 x 1080 pixels, while 126 pixels would be used for onscreen buttons incorporated in the Android operating system. It is expected to ship with Android 4.1.1 (Jelly Bean) operating system.
A Chinese site, it168, claims that Yuga could sport a 5in display, 2GB of RAM, Mobile Bravia Engine 2, Walkman Audio technology, 16 megapixel camera with Exmor R CMOS sensor, Cybershot capability, NFC, LTE, micro SD card expansion, 2013 Sony Xperia user interface, MHL connectivity, Bluetooth 4.0 and Android 4.2.
The unannounced Sony smartphone is expected to be unveiled at the Mobile World Congress (MWC) 2013. The Android Soul notes that Yuga could be Sony's Nexus device or simply a device that Sony could be prepping to compete with manufacturers.
"The processor and display are two things that the benchmarks confirm, and it remains to be seen what else gets confirmed or rumoured in the coming days. We wouldn't say no to a high-end device like the Yuga from the most open source-friendly Android manufacturer, nor to a Nexus made by them, so here's hoping there is some more info on this soon," claims The Android Soul.
Recently, the device showed up in the AnTuTu benchmark running Android 4.1.1 at a 1.5GHz processor speed scoring 11,321, according to Xperia Blog. According to the blog's source, Yuga, alongside Odin, will be running on the Qualcomm platform.
It is said to be powered by a quadcore Snapdragon S4 chipset (APQ8064 & MDM9615 with Adreno 320 graphics). Although, Yuga is said to flaunt different appearance when compared to Odin, both phones are expected to boast identical hardware specs.