As Sony's new phone Xperia Z and Samsung's second generation Galaxy Note featuring a 5.5in screen vie for attention, a look at the features of the two devices.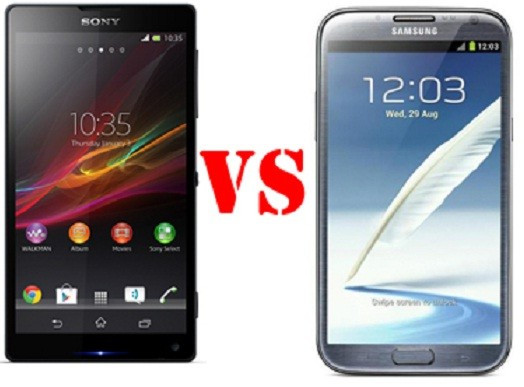 Like other mobile manufacturers, Sony has finally entered the market with smartphones having bigger displays. The Japanese company unveiled its Xperia Z, featuring a 5in full HD Reality display at the CES 2013 event. The handset is expected to hit the UK market on 1 March.
A look at how the Sony Xperia Z fares against Samsung's second generation Galaxy Note announced at the IFA event last year.
Xperia Z Vs Galaxy Note 2: Display
Sony's newest Xperia Z features a 5in full HD Reality display, powered by the second generation Mobile Bravia Engine. The resolution of the HD display is 1080 x 1920pixels with pixel density of 443 pixels per inch (ppi).
Sony claims the Reality display with its high pixel density provides sharp photos as well as brightness. The Mobile Bravia Engine 2, according to Sony, delivers better viewing experience which is a result of addition of "new real-time contrast optimisation to the sharpness enhancement, high quality colour management and noise reduction". The Bravia Engine is also capable of analysing content type while adjusting the image accordingly.
Samsung's Galaxy Note 2, in contrast, has a bigger display when compared to the Xperia Z, at 5.5in. The HD Super AMOLED display of the Note 2 is protected with Gorilla Glass 2.
Although the Note features a bigger display, its resolution as well as pixel density are a tad less than the Xperia Z, at 720 x 1280pixels and 267ppi.
The Galaxy Note 2 with its 16:9 screen ratio delivers an "immersive" and "enriched cinema-like video viewing" experience. The display is designed to help users in performing several tasks and creating content freely while on the move. A review by IBTimes UK suggests the screen of the Note 2 is clear, bright and very responsive to touch inputs, with a wide viewing angle. The large screen makes watching video, browsing and viewing photos better than any other smartphone.
Xperia Z Vs Galaxy Note 2: Dimensions
The Note is larger, wider and thicker than the Xperia Z. The Note 2 is approximately 36g heavier than Sony's product.
Xperia Z: 139 x 71 x 7.9mm
Note 2: 151.1 x 80.5 x 9.4mm
Xperia Z Vs Galaxy Note 2: Operating System
The Xperia Z will be first shipped with Android 4.1 (Jelly Bean). Sony promises the device will be upgraded with the latest version of Jelly Bean (Android 4.2) shortly after the launch.
The Note 2 was launched with Android 4.1.1 (Jelly Bean) and recently the South Korean mobile manufacturer has released Android 4.1.2 software upgrade for the device. The update brings a number of new features including customised Notification panel, smoother browser operation and new ink effects on lock-screen. Samsung reportedly plans to upgrade the device with Android 4.2, but there is no official word on the rollout date.
Xperia Z Vs Galaxy Note 2: Processor
The Xperia Z is powered by Qualcomm Snapdragon S4 Pro (APQ8064) chip featuring a quad-core Krait processor with each core running at clock speeds up to 1.5GHz, and paired with Adreno 320 graphics unit.
The Note 2, on the other hand, uses Exynos 4 chip featuring a quad-core Cortex-A9 processor and paired with Mali-400MP graphics unit. This is the same processor that powers the third generation Galaxy S series smartphone. But the key difference is when the quad-core processor in Galaxy S3 runs at a clock speed of 1.4GHz, the Galaxy Note 2's quad-core processor clocked at 1.6GHz.
As far as performance is concerned, both the Snapdragon S4 Pro quad as well as the Exynos 4 quad have been benchmarked to be powerful processors.
Interestingly, both handsets have a huge RAM, at 2GB.
Xperia Z Vs Galaxy Note 2: Camera
The Xperia Z carries features a 13 megapixel rear camera with Exmor RS for mobile image sensor which is claimed to be the first image sensor with HDR (High Dynamic Range) video for smartphones. HDR is an imaging technology used to capture clear photos against strong backlight.
Other camera technologies include auto-focus, Burst Mode, face detection, image stabilisation, geo-tagging, smile detection, sweep panorama, touch focus, picture effect and quick launch.
The handset also has a 2.2 megapixel of front-camera. Both cameras are capable of recording 1080p video.
The Galaxy Note 2, unlike the Xperia Z, has an eight megapixel rear-camera with technologies including auto-focus, LED flash, simultaneous HD video and image recording, geo-tagging, touch focus, face and smile detection and image stabilisation. The camera can record 1080p video at 30 frames per second (fps).
The Note 2's camera has some interesting features including Buddy Photo Share, Burst Shot and Best photos: the features which were first introduced in Galaxy S3. The Note carries a camera function called Best photos which allows users to choose the most preferred face/pose of each person from a group photo.
The front-camera of the smartphone has slightly a lower resolution than the Xperia Z at 1.9 megapixel. The camera is capable of HD video recording.
Xperia Z Vs Galaxy Note 2: Connectivity
The Xperia Z offers Wi-Fi 802.11 b/g/n, Wi-Fi Direct, DLNA, Wi-Fi hotspot and Bluetooth v4.0 with A2DP.
The Note 2 also supports Wi-Fi 802.11a/b/g/n, dual-band, DLNA, Wi-Fi Direct, Wi-Fi hotspot, Bluetooth v4.0 with A2DP, LE and EDR. Both smartphones offer HSDPA data speed up to 42 Mbps and HSUPA up to 5.76 Mbps.
Both Sony and Samsung's phones are Near Field Communication (NFC) enabled and boast 4G LTE network speeds.
Xperia Z Vs Galaxy Note 2: Storage
The Xperia Z will be available in a 16GB storage variant whereas the Galaxy Note 2 comes in three storage options at 16GB, 32GB and 64GB. The Xperia Z and the Note 2 support microSD card for additional space.
Xperia Z Vs Galaxy Note 2: Battery
Sony is yet to provide details based on the power of the battery but it claims the battery will provide talktime up to 11 hours and standby time up to 550 hours. The company has introduced a new feature, Battery STAMINA mode, which can improve the standby time by four times by automatically closing power hungry apps whenever the screen is off and starting them up again when the screen is turned on.
The Note 2 runs on a 3100mAh battery with Samsung claiming users can enjoy multimedia content on the move and capture ideas irrespective of location and time without suffering from power limitation. A talktime battery test (in 3G mode) reveals that the Note 2 survived up to approximately 17 hours and delivered a web browsing life of up to eight hours and 48 minutes.
Xperia Z Vs Galaxy Note 2: Price
There is a marginal difference between the 16GB version of both smartphones (price according to Clove UK); the Galaxy Note 2 is priced at £516 whereas the Xperia Z costs £528.